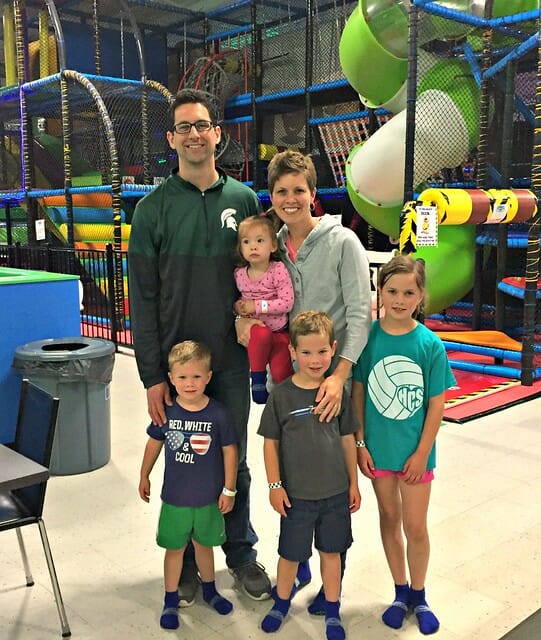 Last week was the final full week of summer for our family as Dave is already back to school for teacher meetings this week.
Seriously, the summer felt like it FLEW by this year!
Back in May, I made a mental list of all the things I hoped to accomplish over the summer… I was so optimistic at what I could accomplish, especially considering the kids are older now and Dave would be home ALL summer again.
Unfortunately, I did NOT complete many of these mental todos!
Things like:
Finish our laundry room renovation (didn't even get started — but that's partially because the people we need to help us were not available)
Update all the recipes on my blog (I finished 2 or 3 of the HUNDREDS of recipes I have posted so far!)
Do several blog updates (I didn't do any)
Start exercising 2-3 days a week (nope, never did it once)
Make several videos for my blog — with Dave's help (we made 2)
Do a mini-makeover on our outbuilding (we just recently got started on this)
Repaint the trim on the front porch (never even started — but I do still have time for this in the fall)
Get Simon to ride a 2-wheel bike (nope, not happening — but not necessarily because of lack of effort on my part!)
Start piano lessons with Nora (we did 2 lessons)
Even now, I look back on that list and wonder what on earth I did with all my time this summer! Dave was home every day, I was home every day, I should have easily completed all those big projects and to-dos this summer… but I didn't.
And yes, it's very unlike me to push so many projects and to-dos to the "back burner"!
At times it was difficult to accept that I would not come close to completing all the things I wanted to do over the summer. I felt like a failure, I felt discouraged, I even felt a little lazy at times!
.
So what did I do with my time this summer?
As I thought back over the summer, I realized we really truly did have a fairly "full" summer — and while I personally didn't accomplish all of my to-dos, I did have a lot of fun and I certainly hope my children will look back on this summer with happy memories.
We carted the older kids to and from swimming lessons, soccer camp, basketball camp, and Vacation Bible School (each 1 week long, but all different weeks).
We often went to Story Hour at local parks (via the library) on Wednesday mornings.
We often went bowling (via the Kid's Bowl Free program) on Tuesday mornings.
We went to the Zoo several times.
We went to Rebounderz on rainy days.
We took bike rides to various parks, sometimes stopping to grab a bite to eat on our way home.
We visited my sister, Dave's sister, and Dave's grandma (all in different states).
We had people over to our house ALL THE TIME! Breakfast, lunch, dinner, morning play dates, afternoon pool parties, etc. etc. There were a few days when we had 3 different groups of people coming over at 3 different times of the day. It was crazy, but really fun!
We changed the kids bedrooms around (per their request) and had fun painting and decorating with them.
We picked and tended to the garden veggies, and we maintained our landscape.
We went to many birthday parties, anniversary parties, and special events with friends.
We swam in our pool almost every day we could — often several times per day.
We visited friends with bigger pools, lakes, trailers, and cottages.
We went out for ice cream (and made our own ice cream).
We usually ate 3 meals a day around our table (inside or outside) often with various friends or family eating with us.
We read through the entire 7-book National Parks Mystery series at meal times.
We made gak and slime, and played with play-doh.
We went to thrift stores and let the kids pick out something "new" after purging several boxes of toys and games.
We attended many fun summer events put on by our church.
I canned pickles, beets, jam, and tomatoes (with LOTS more to can yet this fall)
I made James' digital photo book, and kept up-to-date with our yearly family photo book.
I kept 2 different sourdough starters alive and baked tons of bread, rolls, buns, cinnamon rolls, etc.
I made so much food from scratch and continued to faithfully grind all my own grain for cooking and baking.
Like I mentioned above, we had a very FULL summer — it just wasn't all that productive from a house work, blog work, or school work standpoint (I know Dave had several school projects he never got to either).
But I think we're both OK with that!
.
5 years ago, I wrote a post entitled "We HAVE the Time, We Just Don't MAKE the Time" — in regards to the fact that we all HAVE the same amount of time each day, however we can all choose (to some degree) what we MAKE the time to do.
In other words, we are all usually much more in control of our time than we like to admit.
So yes, we could have MADE the time for my blog projects and our laundry room project and Dave' s school projects, but we decided that for now, when the kids are home all summer (and still think we are cool), it's a better use of our time to do as many fun things with them as we can.
I know, I never thought I'd choose "fun" over "productive" — aren't you proud of me!
I have always been very conscious of how I utilize my time each day, as well as how I talk about time management. I am careful not to complain about "not having enough time" because I know I could choose to MAKE more time for whatever it is.
Since writing that original post 5 years ago, I have been EVEN MORE aware of how often others flippantly comment about not "having enough time" or wishing for "more time".
I do completely understand where they are coming from (I think we all wish for more time every now and then) but I also continually remind myself that we all have the same number of hours each day, and it's up to me to figure out how I want to use my hours.
Of course, my goal is to be efficient with my time… but if I choose to spend all afternoon with my kids at the pool, then I can't really be too upset that I didn't accomplish any major projects that day.
Similarly, if I choose to work on a big house or yard project all afternoon, I can't be annoyed that the house is a mess and our dinner plans are fairly simple.
Even though Dave is already back in school, the kids and I still have lots of big plans for these last 2 weeks of summer vacation — including the much-anticipated County Fair!
My goal was not, and is not, necessarily to entertain my children all summer long, but I do hope they can look back on this summer (and future summers) and remember how much fun they had.
And maybe, just maybe, when they have children of their own, they will realize how much time and effort Dave and I invested into prioritizing a significant amount of family time this summer.
Thank You Summer Vacation 2019!
It's been real! 🙂