Hello from the bipolar climate of West Michigan!
For weeks, we enjoyed snow days and sub-zero temps… excellent weather for snow forts and sledding (some of the kids' favorite things!)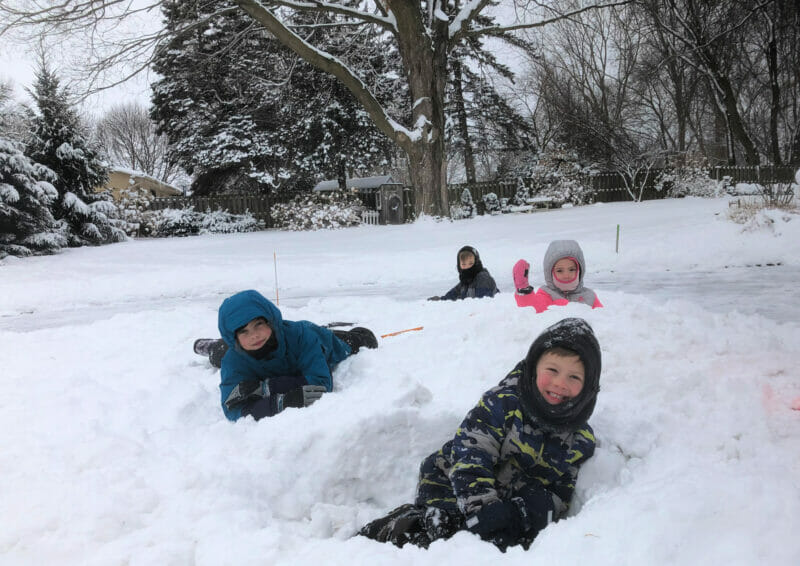 And then 2 days later, the sun came out, and as all sun-starved West Michiganders understand, my children assumed sunny = warm…
I did let them play outside in shorts (with shoes) for part of the afternoon — they were thrilled!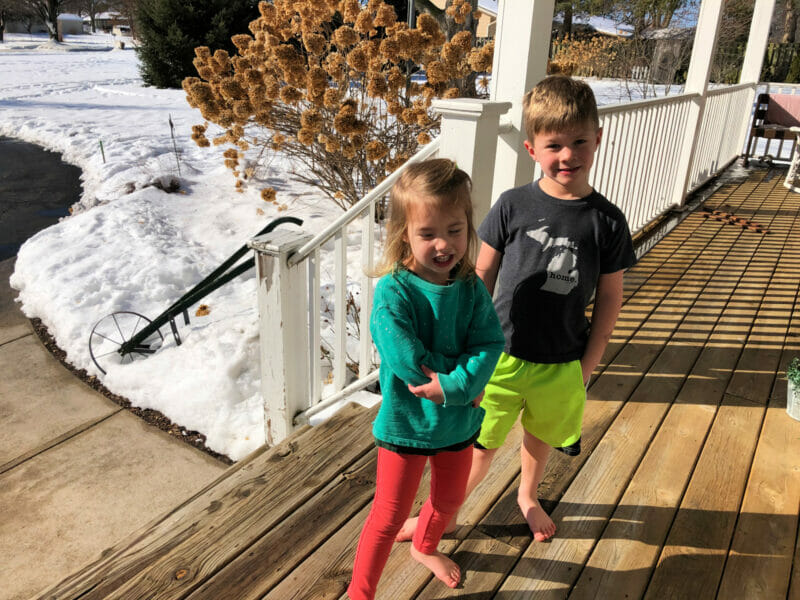 Yes, here in West Michigan, we LOVE seeing the sun in the winter… it's certainly one of my favorite things!
Here are a few more…
---
FAVORITE MOMENT = Simon's Note
My favorite oldest son is turning 7 (SEVEN!) later this week.
Can you believe it!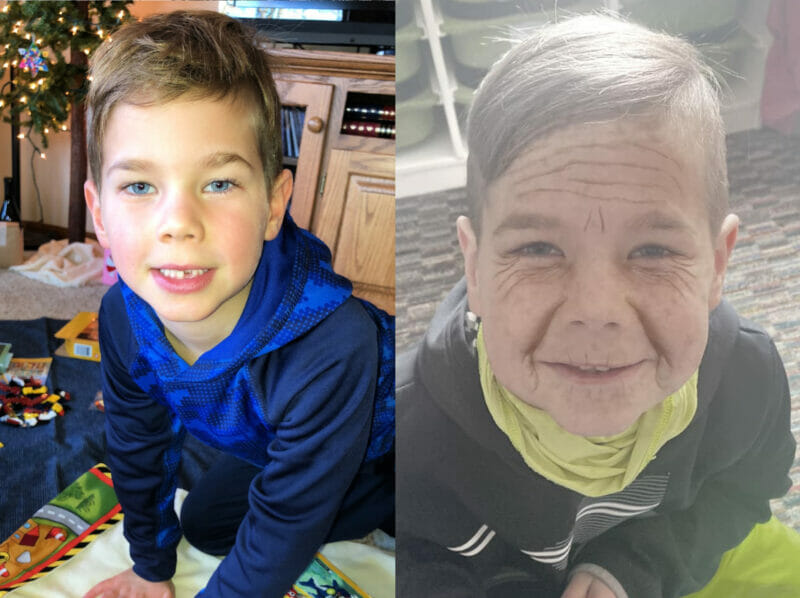 A couple of years ago, he made me a "sign" to hang in the kitchen… I love it so much that it still has a prominent place on the side of the fridge by the sink.
I smile every time I look at it (which is fairly regularly since it's on the fridge). 🥰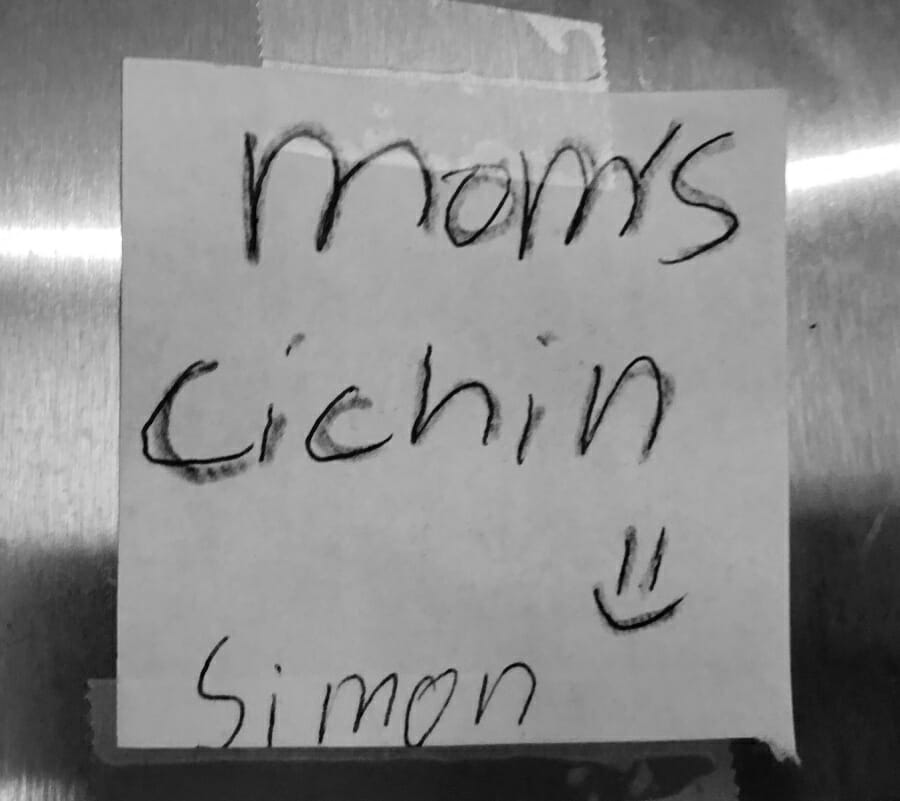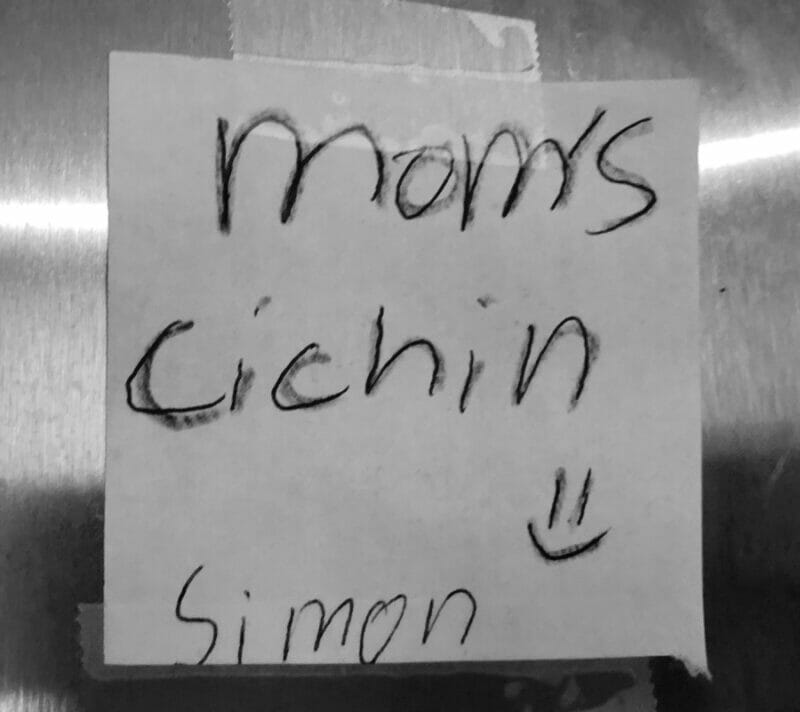 FAVORITE ROUTINE = Movie Night
Back when COVID hit last year and everything shut down, Dave and I decided to implement a Family Moving Night once a week as something for us to look forward to.
Now that the kids are back in school, we've continued with our weekly movie nights, and they are still the source of much anticipation.
We usually have some sort of finger food for dinner (like this) along with popcorn and a bunch of cookies and bars. It's the only meal of the week we don't eat at the table, which also adds to the excitement.
For the last few months, we've been watching one episode of Little House on the Prairie and then one episode of Planet Earth (both free on Amazon Prime TV). Then we play a few games, read a few books, and the kids are still all in bed by 8:00.
Truly, even Dave and I look forward to this weekly routine. I get an easy dinner with very little cleanup, we all get to chill and relax for a while, we all enjoy both TV shows, the kids think they're staying up super late, and Dave and I still have an hour or 2 after they go to bed to hang out and get ready for the week ahead.
I'm not sure how long it will make sense for us to continue this tradition, but it's the perfect family-friendly (and really frugal) activity for this stage in our lives!
PAST FAVORITE = Mesh Laundry Bags
Since I'm not in the habit of accumulating more favorites, I thought it might be helpful to share some of my past favorites that are STILL my favorites all these years later!
For YEARS, I used mesh laundry bags to keep all our tiny little baby socks, mittens, and other accessories from getting lost in the washing machine… I shared them as one of my Favorite Things back in March of 2016.
Now, 5 years later, we still use them to keep socks from getting lost in the laundry… but we also use them to wash all our face masks!
I keep a couple of mesh bags hanging in the mudroom, and everyone deposits their masks into the bags when they get home. I wash the contents whenever I do laundry, and then hang the masks to air-dry back on the hooks in the mudroom.
It's a slick system (albeit, one I hope we do not need to continue for much longer).
---
FAVORITE BOOKS = Who Would Win
All our kids love the Who Would Win books… but the boys especially have been borderline-obsessed over the past year or so.
We exhausted our library's resources and renewed the books as long as we could… but the boys were still disappointed every time we needed to return them.
So, they got the FULL set for Christmas, and it's probably one of the best purchases we've made in our parenting career (right up there with the baby carrier!)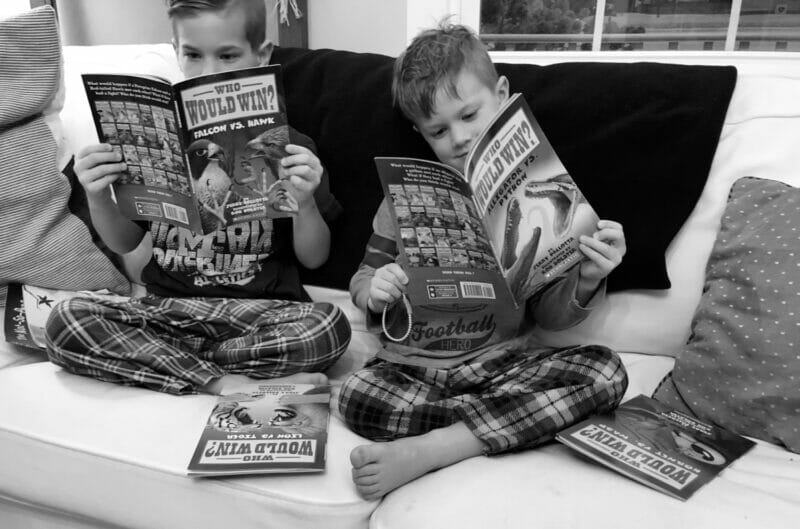 Every book is packed with fun facts, amazing pictures, and so much information… I've probably read every single book at least a dozen times over the last 2 years and I still find new things I've missed.
They truly are super interesting… and who doesn't love a good animal battle?
GET THE BOOKS: If you have curious, animal-loving kiddos ages 3-12, I highly recommend the entire series of Who Would Win books!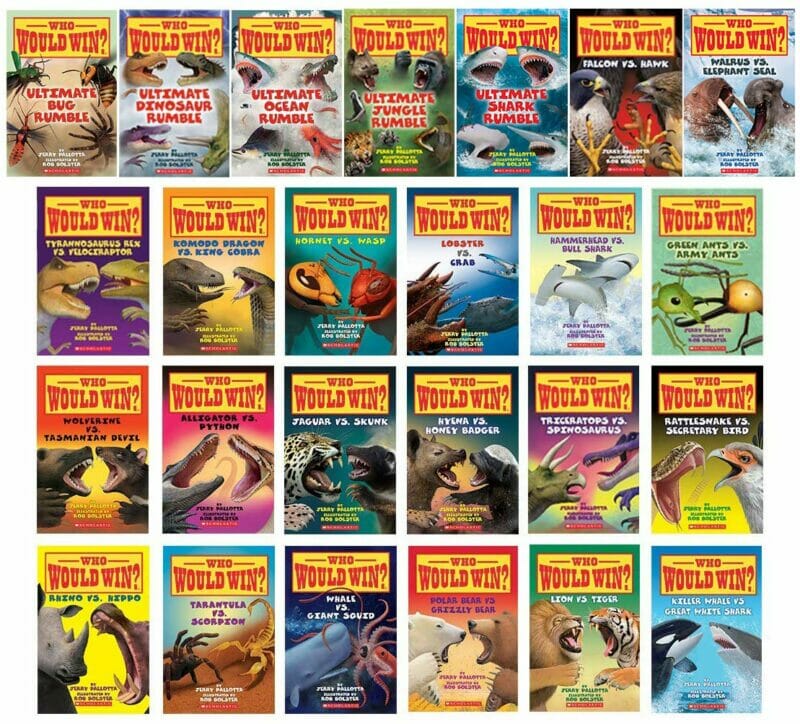 ---
FAVORITE MEDIA = 5 Questions You Must Ask Your Kids
I don't watch much YouTube right now, but I'm currently reading Paul Tripp's book "Parenting: 14 Gospel Principles that can Radically Change Your Family" and I watched a couple of the YouTube videos that went along with the teachings in his book.
ALL of his books and videos are excellent resources, and if you have an extra 10 minutes or so today, I highly encourage you to watch the following video clip (or share it with someone currently raising children of any age).
It offers 5 questions to ask any time your children are fighting, arguing, disobeying, acting out, etc. — all in an effort to reach their hearts, instead of just getting them to blindly follow your rules out of fear.
In my opinion, these questions could work in almost any relationship (not just parent/child).
FAVORITE SERVICE = Prime Wardrobe
I'm not nearly as enthralled with Amazon as I was in the past… I've honestly thought about nixing our Prime membership in support of smaller local businesses, but as a mother of 4 young children who does not enjoy shopping, the 2-day shipping really does make my life so much easier.
We utilize our Prime Membership almost daily for "free" music, books, tv, movies, and, of course, 2-day shipping.
Most recently, we tried Prime Wardrobe to shop for Dave (a.k.a. the most impossible person to buy clothing for in the history of the universe.)
He needed new jeans badly, but we just never made the time to get out to a store… and he's not the type to shop by himself.
Instead, we loaded up our online "cart" with 8 pairs of jeans in various washes, styles, and sizes and had them all shipped our way in one big box (with no charge billed until we chose the pair(s) we wanted to keep).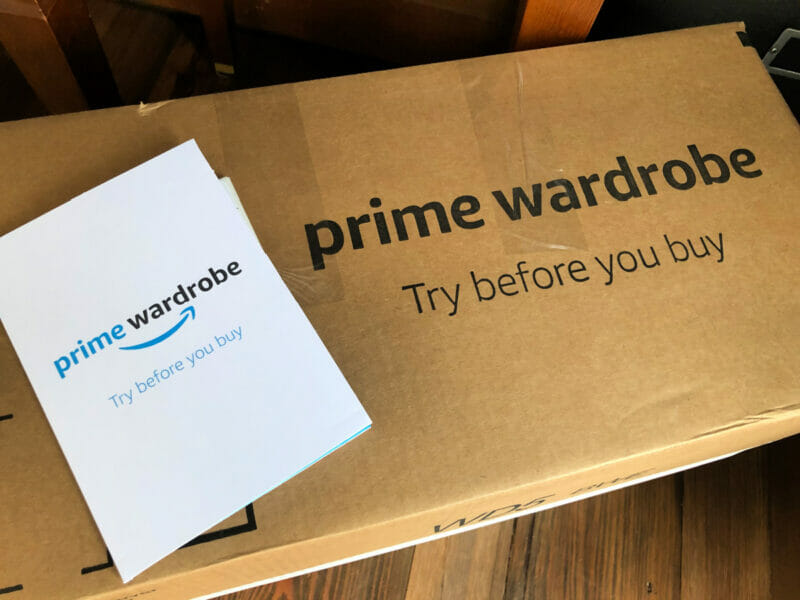 He tried on each pair and decided on 2 that he liked. The rest were conveniently shipped back with the enclosed mailing label and we were only billed for the 2 pairs we kept.
It was SLICK!
The rest of our family mainly shops at thrift stores, but we will definitely use Prime Wardrobe again whenever Dave needs more clothing.
FAVORITE RECIPE = Sausage & Cheese Tortellini Soup
Sausage and Cheese Tortellini Soup is almost like a thin stew — it's so hearty and filling and delicious.
It's been a regular family favorite since I first made it for a staff lunch at Dave's school back in 2008. My filled-to-the-brim slow cooker came back completely empty with several requests for the recipe… I knew it was a hit!
Now, I make it at least once a month from fall through spring… and we always "fight" over the leftovers.
Yup, it's THAT good!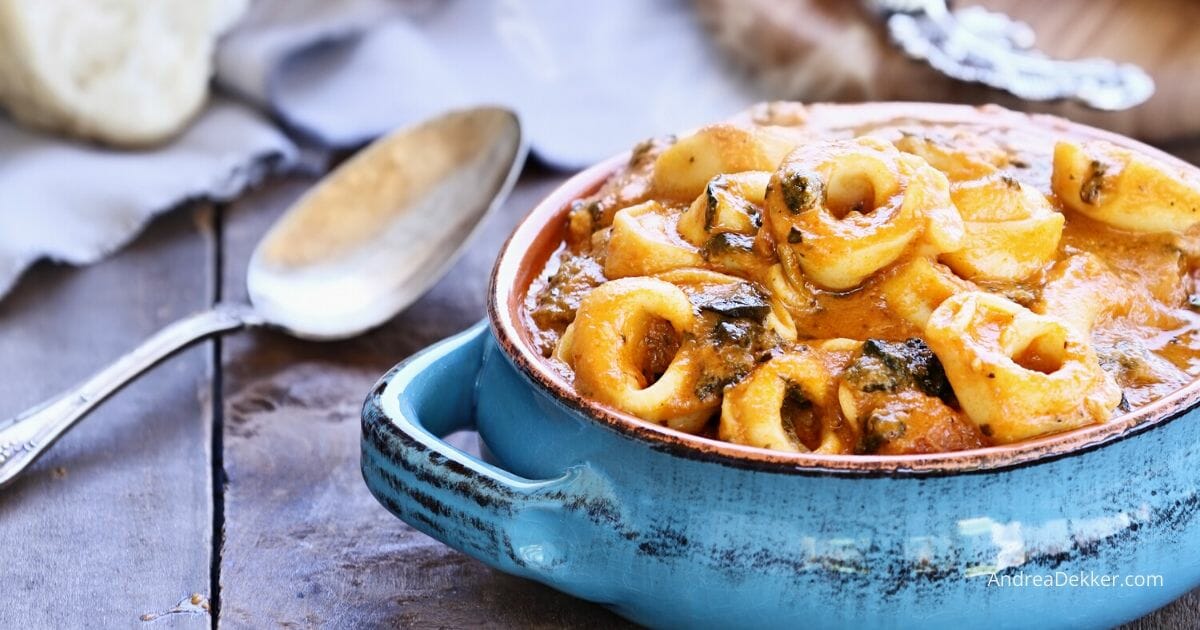 FAVORITE QUOTE = Jesus Calling Devotional
"Trust and thankfulness will get you safely through this day. Trust protects you from worrying and obsessing. Thankfulness keeps you from criticizing and complaining: those "sister sins" that so easily entangle you."
If you haven't read one of the MANY different versions of the Jesus Calling Devotionals by Sarah Young, you absolutely must buy or borrow a copy.
It's written from the perspective that Jesus is talking (calling) directly to you while you read… it's SO good.
Each day's devotional is super short (just 2 or 3 paragraphs) but there is never a day that goes by that I don't write something down or highlight a sentence to think over later in the day.
This is the exact devotional I'm currently reading.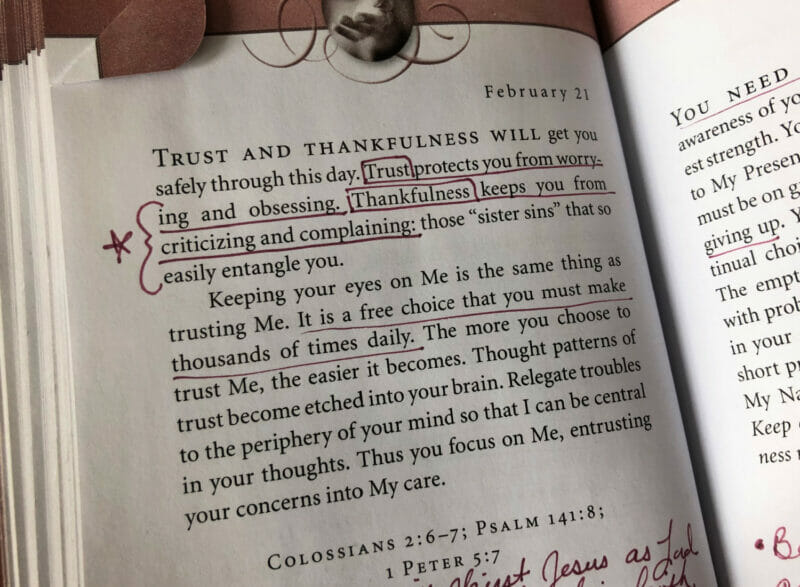 FAVORITE ARCHIVED POST = Decision Fatigue
They say the average adult makes 35,000 decisions every day (moms probably make more!)
If you feel weighed down by decision fatigue, these 2 archived posts are a must-read.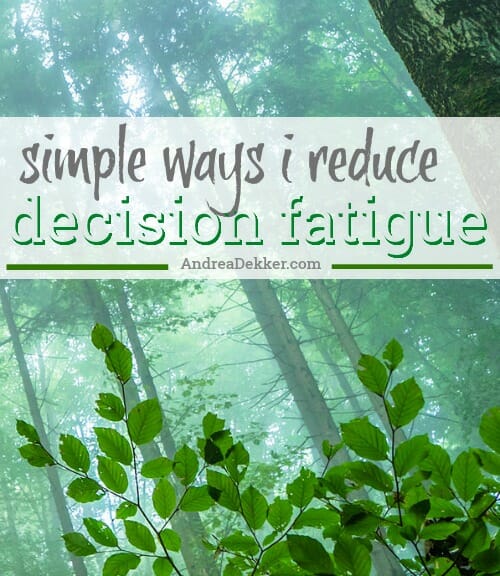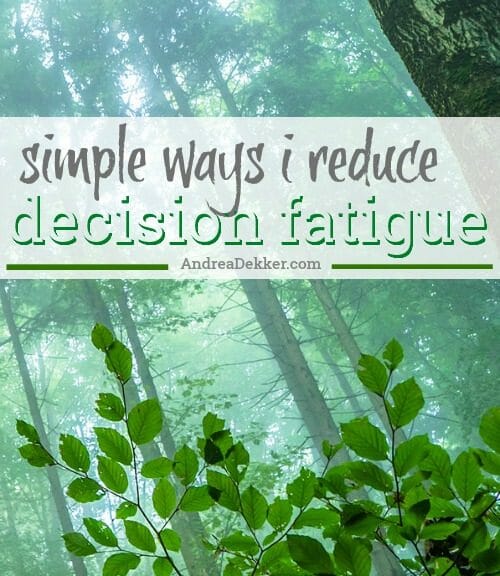 ---
That's it for me this month.
If you're interested, you can scroll through ALL my Favorite Things posts HERE!
And… join my email community, friends!
There is no spam, no sales pitch, no funnel… you may unsubscribe whenever.
It's just fun and valuable content to help you create a simpler, more intentional home and life for you and your family.
Plus, the weekly Vlogs are exclusive for you as an email subscriber!