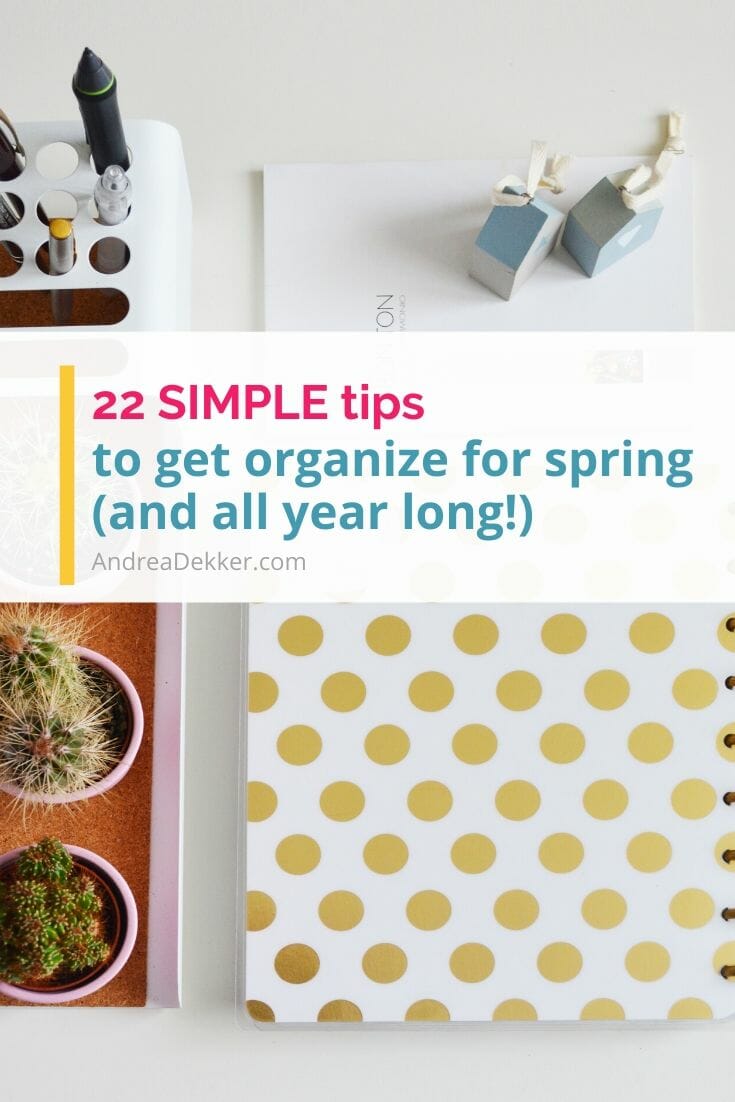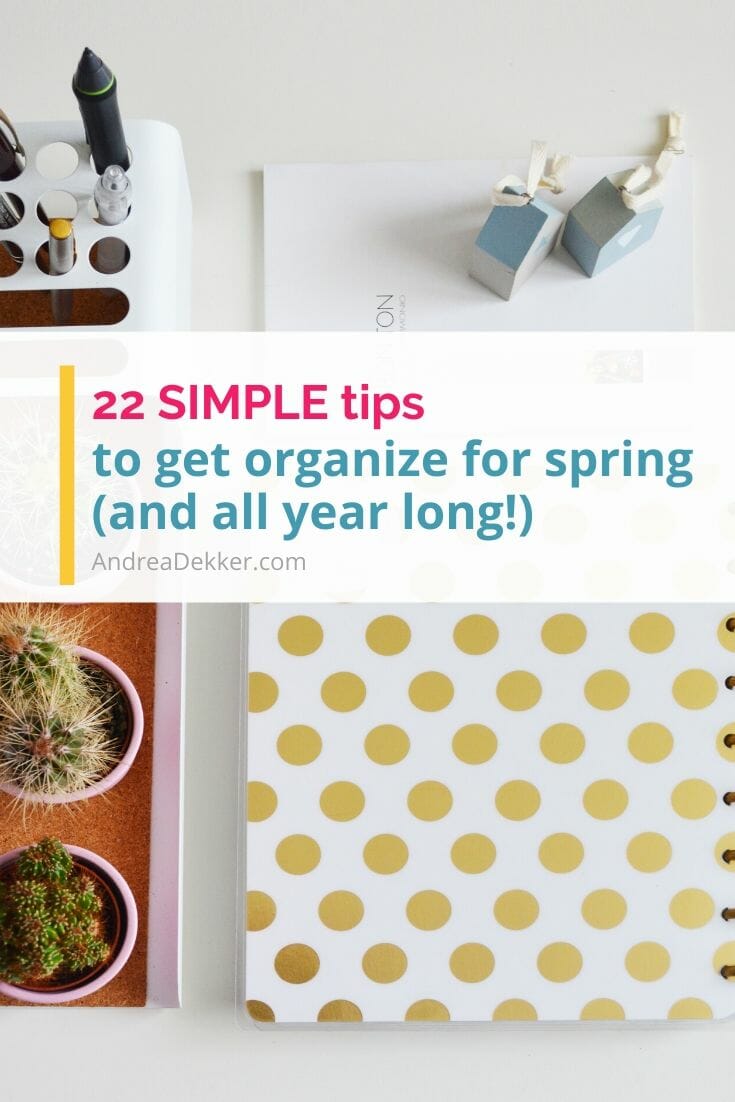 The onset of spring brings the promise of warmer weather, pretty flowers, busier schedules, AND fun spring organizing projects!
While I try to keep things pretty organized all year long, there's just something about spring that pushes me into high gear and motivates me to clean, organize, and purge!
If you feel the same way, here are 22 simple tips to help you organize your home and life this spring (and all year long!)
1. Initiate monthly purges.
This list is not in any specific order; however, I put Monthly Purges first for a reason.
I'm a HUGE fan of regular maintenance… and monthly purging is a great way to stay on top of your clutter.
2. When in doubt, throw it out.
…my favorite phrase whenever I'm questioning something.
If I don't love it, need it, use it, or want it — I throw it out!
3. Focus on one room/area at a time.
Work on one specific area and don't stop until that area is finished.
You will most likely find several items that don't belong in that area. Simply put them in a box, bin, bag or laundry basket and deal with that pile of things later.
If you leave the space to put those items away, there's a high likelihood you'll get distracted, which will lead to unfinished projects all over the house!
4. Find a system that works for you — there is more than one right way.
Unfortunately, I can't tell you exactly what system will work for you… just keep trying until something clicks.
Staying organized will be SO much easier when you find the right system for you and your family — I promise!
5. File your papers.
Although many of our papers are now electronic, I still think a good paper organizing system is crucial for every home.
Here's how I organize ALL our paperwork, and more specifically, here's how we organize our important information (with a free printable).
6. Make a place for clothes that needs to be fixed.
Just this past week I had 4 buttons come off different coats and shirts. I didn't have time to sew them on right away, but I also didn't want to lose the buttons or simply put the items back in my closet. So I put them in a basket near my sewing stuff so I can fix them when I have time.
If you bring your items away to be fixed, then put that basket or bag in your car and bring it away the next time you're out.
7. Go through one box, shelve, drawer, bin, cabinet at a time.
When we moved, I really wanted to unpack as quickly as possible so I started going through all the boxes at the same time.
Unfortunately, I couldn't find anything, and our house was pure chaos!
I quickly realized that it would be much easier to focus on one box at a time. Before I knew it, all the boxes were empty!
8. Don't let your emotions win.
As you set out to purge and get more organized, try to leave your emotions out.
If you have trouble with this, ask a non-emotional friend to help you out!
9. Make your bed — every day!
Want 10 reasons why? click here.
10. Set a timmer for 15 minutes every night before bed or every morning before work.
Seriously, 15 minutes a day will add up to over 90 hours in the course of a year.
Do you need more convincing?
11. Tackle your junk drawer.
If you're like me, you open your junk drawer several times each day.
Since I open that drawer often, it feels great to open an organized drawer every time!
12. Make to-do lists every day.
I almost always "map out" my day the night before.
NOTE: email subscribers get instant access to my free printable library (and I have a really great printable to-do list!)
13. Get your family involved.
Even small children can help. Most of the time, children will be more likely to KEEP things organized if they are involved in the process.
Make it a game and offer rewards. Here are a few more ideas for getting kids involved.
14. Keep a basket in your car for car clutter.
I keep a small basket in our van and I carry it in the house every time I get home. (Here's a look at how we organize our van).
I empty out the trash and clutter and then fill it with anything that needs to go back into the car the next day.
15. Barter with a friend.
Make organizing fun by working with a friend.
She helps you, you help her, and then you both go out for coffee afterward!
16. Use organizing containers you already have.
Organizing does NOT have to be expensive. Get creative and think outside the box… literally!
You probably have a bunch of unused organizing tools lying around your house. They just need to be re-purposed.
17. Create a place for all your tax papers.
This does not have to be anything fancy, but it will save you SO much time and stress!
Simply designate a box, bin, drawer, or file for ALL this year's tax papers (I use a file folder). Then, when tax season comes around next year, you'll be prepared!
18. Don't let junk mail come into your home.
Put a recycle bin in your kitchen… or better yet, in your garage and purge all junk mail BEFORE you set it down.
Here are a few resources to actually unsubscribe from most junk mail!
19. Deep clean one type of surface each week.
When it comes to general house cleaning, I like to tackle one room at a time. However, for deep cleaning, I've learned that the easiest way for me to stay on top of my house cleaning is to do one specific type of cleaning task each day.
(Example: floors one day, laundry one day, flat surfaces one day, bathrooms one day, etc.)
That way, I'm doing the same thing throughout our house and can use the same tools and do the same tasks over and over again — saving me quite a bit of time!
20. Purge one room a week.
Over the past few years, I've initiated several full-house purge challenges… and I know many of you have followed along too!
The idea is that you choose one room each week for 16 weeks (or however many rooms you have).
Any extra time you have that week will go towards purging organizing and decluttering that specific space. When the week is finished, you move onto the next room.
Eventually, over the course of a year, you'll have purged each space in your home roughly 3 times — all during different seasons of the year. This system has been SO effective for me!
21. Clean out your wallet and purse.
I almost always try to keep my purse very organized.
It's so nice to be able to find everything I need without digging and searching for several minutes.
22. Utilize your freezer.
During this busy time of year, it's even harder to find the time to cook a meal every night.
I tend to rely on freezer meals at least 2 -3 times each week. Maybe not FULL freezer meals, but at least several pre-cooked ingredients from the freezer.
This saves me SO much time during the week — all with just a few hours when D
There are so many different foods you can prepare ahead and freeze, which will save you a bunch of time and money!
Ok, it's your turn.
What will you do first??