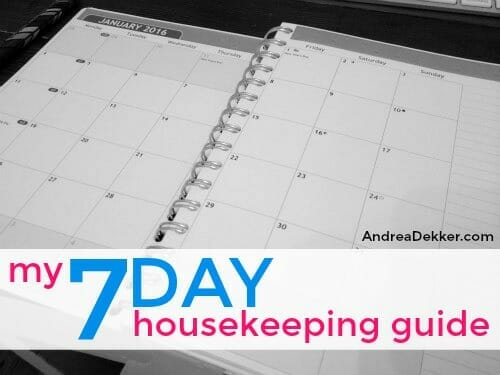 I am CONSTANTLY asked to publish a specific list of what cleaning and organizing activities I do each day, week, month, year, etc. — and I wrote that post a few years ago (read about my cleaning routines here).
Since then I have gotten so many more questions about when, where, and how I tackle all those little projects and tasks that need to happen "sometime", but don't necessarily have a deadline and seem to hang out on our to-do lists forever and ever.
I know you know what I'm talking about!
As I thought more about how I could simplify and consolidate the various things I do each day and each week to keep our house fairly organized and clutter-free, I realized that there are 6 main categories I try to focus my attention on each week.
I added in one day for extra projects (or for rest) and I came up with a 7-day Housekeeping Guide that encompasses most of the "extra things" I do every week.
NOTE: this guide does NOT take the place of your regular cleaning and to-do's.
You will probably notice that I don't talk about making the bed, washing the dishes, doing the laundry, creating a meal plan, writing a to-do list, getting the mail, etc. — that's because my 7-day housekeeping guide is IN ADDITION to whatever daily and weekly cleaning and organizing you already do.
The purpose of this guide is to help you stay on top of all those little areas that are easy to forget about but should still be cleaned somewhat regularly.
Also, I do not expect anyone to tackle ALL of one specific category in any given day. Even a stay-at-home person with kids in school all day wouldn't be able to accomplish that!
Instead, my intent with this list is to give you ONE AREA to focus your attention on every day, and (in a way) permission to let some of the other areas slide for a couple days!
It always feels less overwhelming for me to think about bettering ONE area of my home versus looking around at our entire home wondering where to start.
I hope this 7-day housekeeping guide will help YOU find a place to start each day too!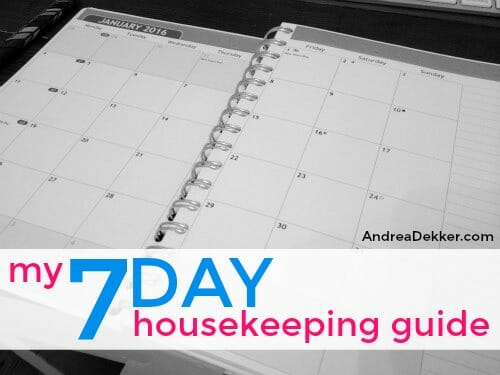 1. Hard surfaces
This is probably one of the biggest categories (just think of how many hard surfaces you have in your home), but many of the tasks are quick "wipe down" or "sweep" tasks that go quickly!
FOR EXAMPLE:
2. Soft surfaces
Although I usually don't think of our home as having many "soft surfaces," it's amazing how many soft surfaces in our home could use a little extra attention!
FOR EXAMPLE:
3. Paper (physical and digital)
Paper is often extremely overwhelming because it's hard to know where to start. My hope is that by having one day where you can devote extra time to paper, you will tackle a little of your paper clutter at a time until it feels more manageable.
FOR EXAMPLE:
4. Closets (Clothing and Linens)
Closet clutter is a huge issue because it's so easy to close the doors and forget about it… at least for a little while! However, in my own personal experience, spending a little time keeping my closets in order saves me SO much time and sanity later on down the road.
You don't need to give up your entire weekend to do a full closet-organizing project either… there are plenty of ways you can regain control of your closet spaces with just a little extra effort.
FOR EXAMPLE:
5. Food Spaces
The amount of space we require to store perishable and nonperishable food simply amazes me! Even as someone who doesn't like a lot of 'extras' lying around, we have TWO refrigerators, an extra deep freezer, a large pantry cabinet in our kitchen, as well as a small extra pantry area by our deep freezer in the basement.
It doesn't take long for these spaces to become messy and cluttered.. and when they are messy and cluttered, it's easy to forget about the food way in the back. This results in spoiled food, freezer burned food, smelly food, expired food, and a whole lot of wasted money!
If you are tired of throwing out food, there are plenty of ways you can better organize your food spaces to save you time, money, sanity, and wasted food.
FOR EXAMPLE:
6. Clutter
After going through hard surfaces, soft surfaces, paper, closets, and food spaces, there's a decent chance you will end up with various items that need to be put away, better organized, and stored somewhere.
Your clutter busting day can be the day you reorganize a drawer in your kitchen, find homes for all those little odds and ends, or make progress towards finishing a larger organizing project.
FOR EXAMPLE:
7. Day off or an extra project
Depending on how busy you are, what your health is like, or what other tasks and obligations you have each week, you can give yourself a day off, use this day to play 'catch up', or tackle a totally new project.
Either way, I think it's nice to have a "free" day every week!
.
The beauty of tackling your housework in this way is that you really can't get "behind" in a sense that you would need to do 2 or 3 days worth of work in one day.
Of course, the system runs more smoothly if you stay on top of your tasks each day, but if you get busy and miss a day or two, just start back up where you left off.
For example, if you work on hard surfaces one day, then soft surfaces the next, but then you get sick for 3 days, just work on paper the next day you're feeling up to it. You don't necessarily have to do hard surfaces every Monday, soft surfaces every Tuesday, etc. Just keep going at your own pace when you have the time and energy.
That said, if you think it would be easier to allocate a specific task to a specific day of the week (there are 7, so it would work nicely) then just skip the days when you felt sick and pick back up on on the current day's task whenever you start to feel better.
There is no one "right way" to work this system — the main goal is just to continue making gradual forward progress in a variety of areas within your home on a regular basis so you EVENTUALLY hit all those spaces that are easy to forget about!
Do you have any other systems to keep up with weekly housekeeping?