10 Ways We Save MORE By Using LESS
posted by Andrea | 01/19/2016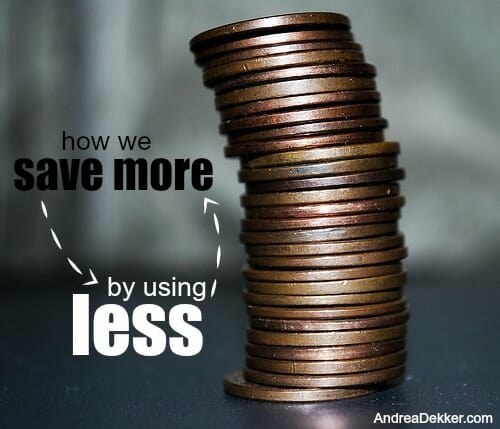 I realize that although I'm not a coupon blog or a money-saving blog, I do still talk a lot about saving money… but that's because it's something I'm passionate about, and I realize that even small savings add up over many months and years. Plus, saving money and being good stewards of our finances is just a good habit to learn.
Some of you might easily be able to shave a few hundred dollars off your monthly expenses just by cutting back on restaurants, entertainment, clothing, and other "fun extras". However, I know there are others who might struggle to save even $20 more per month because money is tight. Whatever the case,  I firmly believe that no matter how tight your budget is, there is always SOME way you can save a few cents here or an extra buck there.
Even if your budget is super tight, I figure there's no harm in trying. The worst case scenario is that you'd shoot for saving an extra $25 and come up a little short — which would still be better than nothing at all!
One way we've been able to save more (without cutting anything out of our budget) is simply by using less.
I know that statement might sound overly obvious… but have you ever tried it? I mean REALLY tried it? Below, I've listed several ways we save more by using less…
1. Dish Soap:
I only use about half the recommended amount of dish soap and dishwasher detergent and my dishes still come out sparkling clean. I also use vinegar instead of Jet Dry (which is ridiculously expensive at our grocery stores)… and I use vinegar to clean my dishwasher — which helps it run better and more efficiently.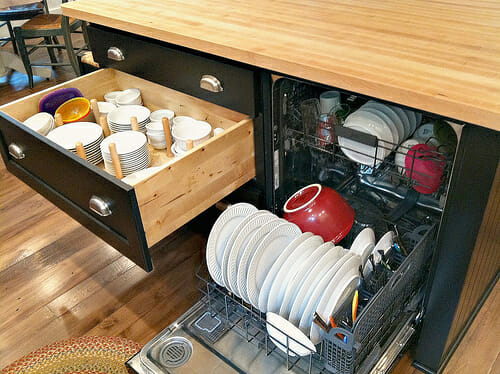 2. Laundry Soap:
I usually use half the recommended amount of any type of laundry soap, bleach, detergent, OxiClean, etc. and I've never had any issues with our clothing not being clean.
3. Body Wash & Hand Soap:
When our body wash bottles are about 1/3 empty, I add in some water and shake it around to "thin down" the soap and make it last just a little bit longer.
And I've been using regular gel handsoap to make my own foaming hand soap — which is easier for kids to use AND stretches the soap SO much further.
4. Napkins:
We almost always use cloth napkins (yes, even with kids). Pizza is probably the only meal that we sometimes use paper napkins for — as well as when we have large groups of people over for a meal.
We each have our own napkin, we keep it on our chairs in between meals, and I swap them out every couple of days (or as they get too dirty).
5. Paper Towels:
I buy the paper towels that are divided into 3 small towels and we try not to use more than 1 small towel at a time.
We also use t-shirt rags for grosser messes (and trash them) and washable microfiber cloths for almost anything we need to clean or wipe.
6. Food Containers and Water Bottles:
We pack our lunches in re-usable lunch bags and (mostly) use re-usable storage containers as opposed to plastic bags.
We also almost always use reusable water bottles — this is my all-time favorite water bottle!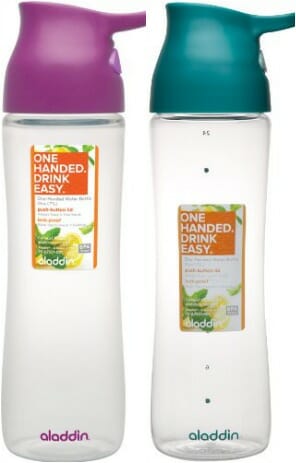 7. Cleaning Products:
I make most of our cleaning products, shampoo and conditioner, face wash, and other toiletries for pennies… which is a huge savings over expensive store-bought products.
I originally thought this might "waste" more time that it was worth — but after almost 5 years of making my own, I can honestly say that it only takes a minute or two to whip up another batch and I'm ready to go for a few more months.
8. Meat:
Whenever a recipe calls for ground beef, shredded chicken, or another type of meat, I almost always use 1/2 to 1/3 less meat and then add in extra beans, rice, veggies, etc. to make up the difference. No one ever notices and the meal is much cheaper that way!
Please know that our family is probably the farthest thing from a vegetarian family… but even still, we have been able to save a good amount on our grocery bill without sacrificing flavor or "heartiness" in our meals!
9. Dairy Products:
I often use dried milk mixed with water or yogurt in many recipes that call for regular milk or sour cream (usually just for cooking, not baking). Dried milk is much cheaper and easier to keep on hand since it's non-perishable.
10. Gas:
I used to spend one afternoon a week driving to different grocery stores getting all sorts of fabulous deals, driving around to different antique stores, or driving to pick up my fabulous Craigslist finds. And although I really enjoyed doing that, it's just not practical for me these days with 3 kids in tow.
There are honestly weeks when the only time I drive is to bring Nora to school 2 days a week (Dave picks her up). We either stay home or walk to places (when the weather is nice)… and even though gas has been much less expensive this past year, I'm positive we save more by simply staying home!
I realize that these ideas won't work for everyone, but if you're looking for a few extremely simple ways to save a little extra each week, these ideas (or something similar) might just work!
And while it might not sound like much, a few dollars each week can really add up after a few months or years. Plus, by using less of many of these products, you're helping the environment too!
Do you have any simple ways to save more by using less?