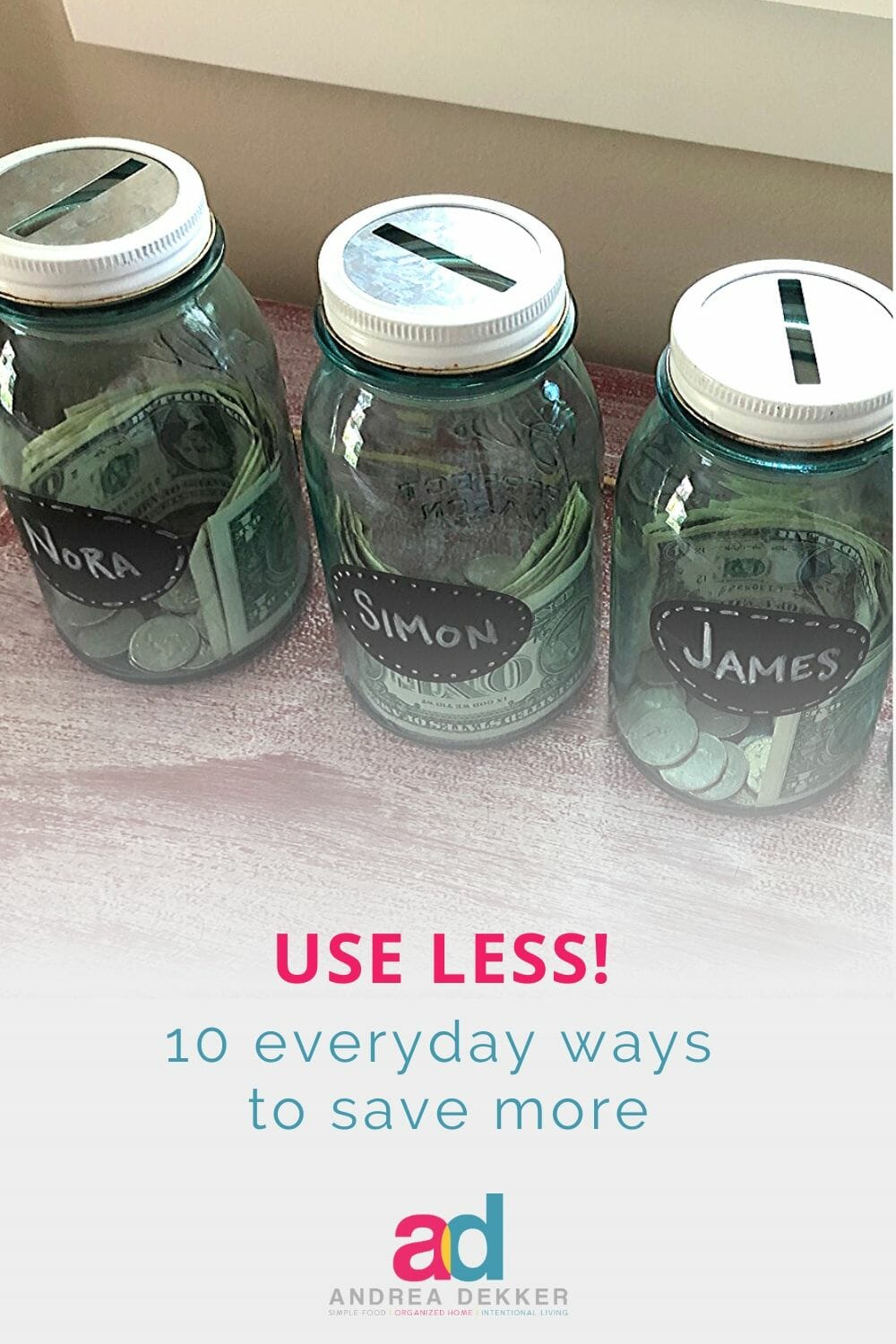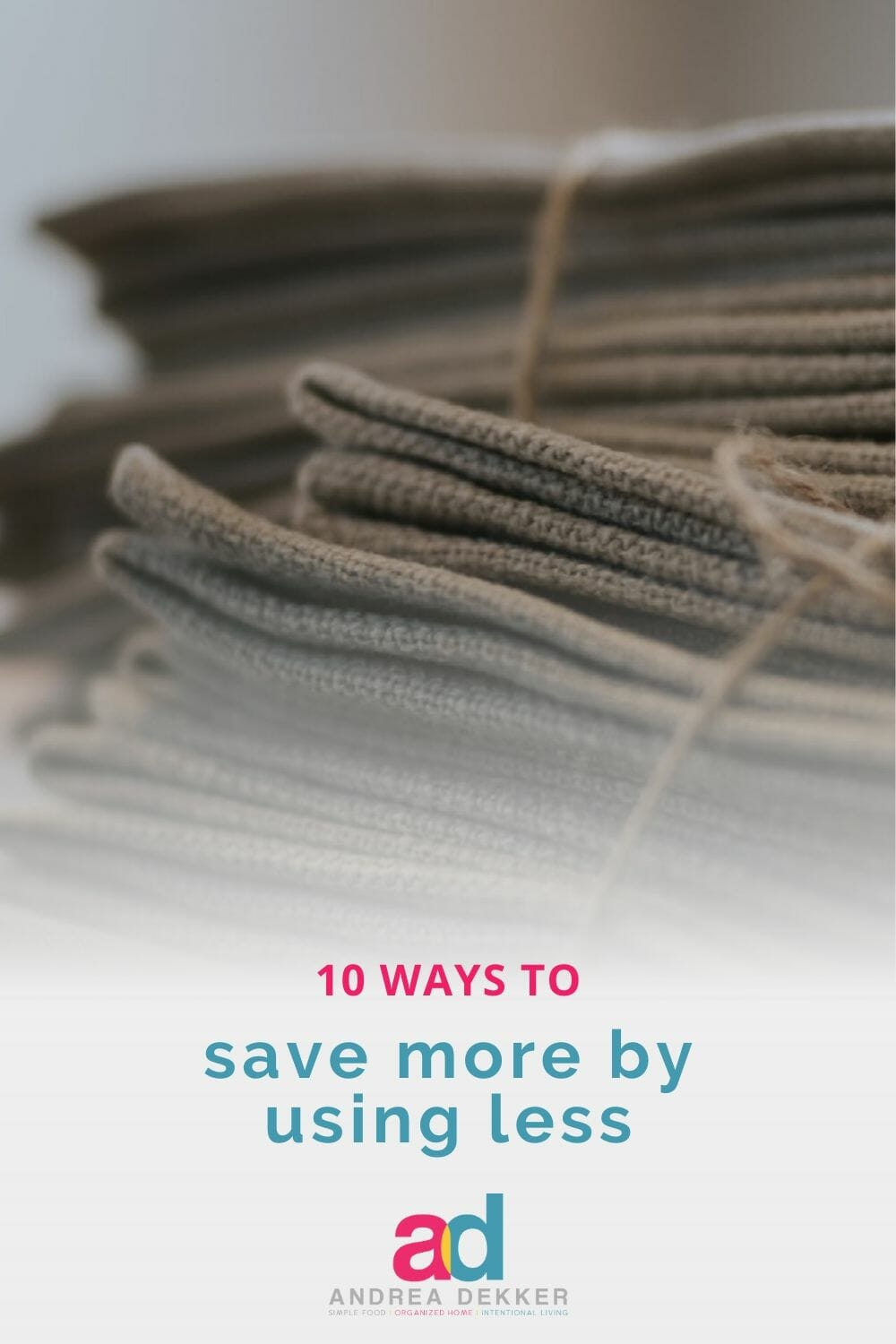 Inside: Try these 10 simple, doable ways to save more by using less. The changes are subtle, but done consistently over time, the savings will really add up!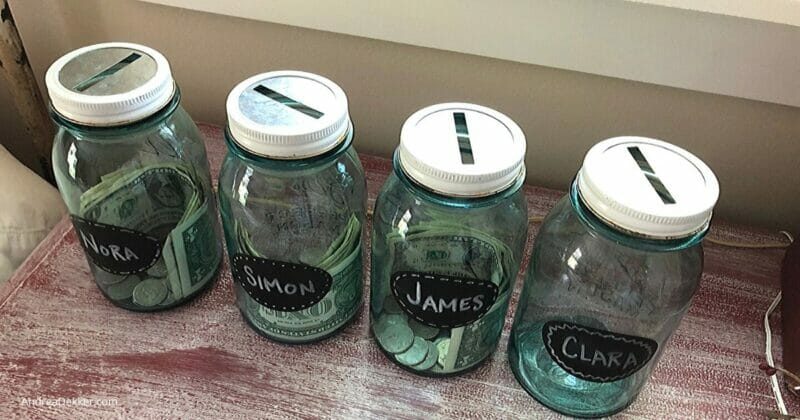 Although I'm not quite as frugal as I once was (blame the kids!) I'm convinced that enjoying the benefits of simple living requires a high degree of financial stewardship.
Namely, living below your means, reducing expenses, staying out of debt, giving generously, and striving for contentment in all areas of life.
Of course, being wise stewards of our finances is also a necessary skill to model for our children… even if we don't necessarily need to live frugally, they might need to someday.
The conversation that started it all:
I vividly remember a conversation with one of my very wise and successful friends a few years ago… we were discussing what we do when we feel like finances are a little tight or when we're trying to save up for something.
Her solution was to increase her income (she runs her own business).
I took the opposite approach and said I would reduce my expenses.
Over the years since that eye-opening conversation, I've noticed, over and over again, how differently she and I approach money matters — and both methods seem to work.
So, if you're the type who would rather reduce your expenses instead of working more to increase your income… I wrote this post for you!
Keep reading for 10 ways our family saves more by using less.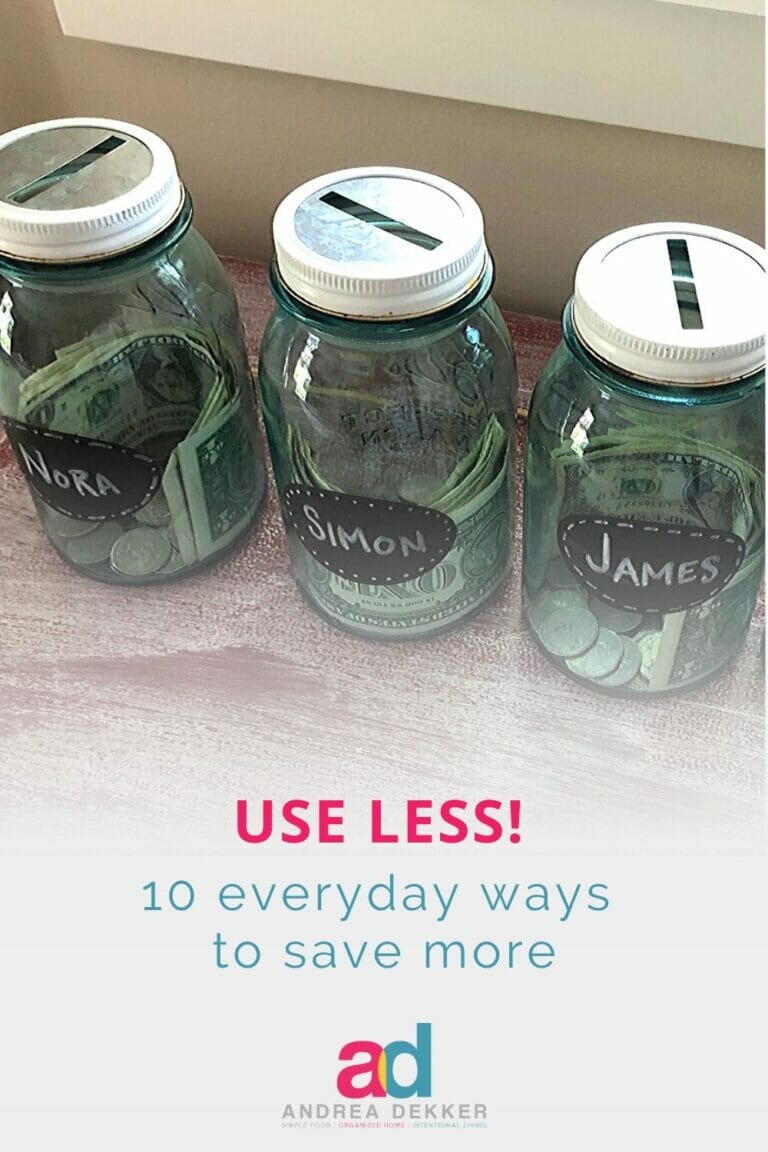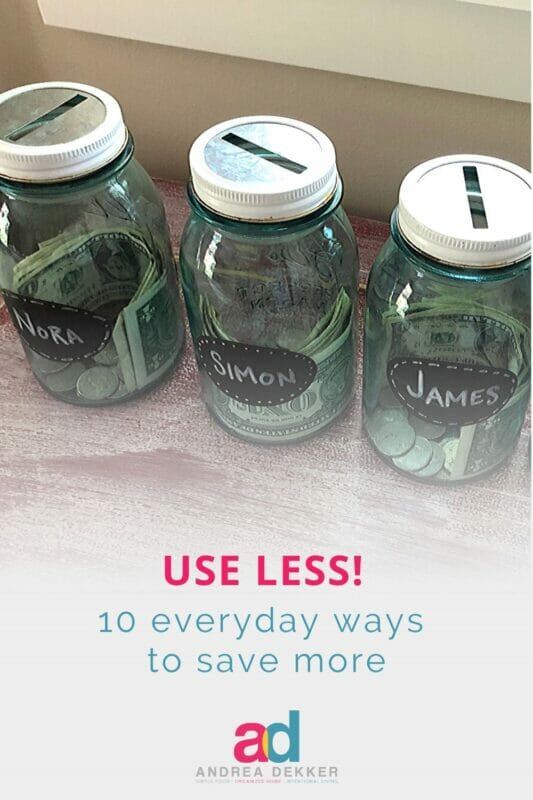 1. Gasoline:
Let's start with a biggy, at least in terms of savings!
With sky-high gas prices, we save by using less gas — a.k.a. we stay home a lot (shocker!)
Dave drives a few miles to school every day, the kids ride the bus, we can walk or ride our bikes to many locations in our small town, and I usually run all my errands in one afternoon.
There are literally weeks when I don't drive anywhere for multiple days in a row.
Now I know this won't work for everyone, but it's worth considering ways to use less gas because you'll save a bunch — and you might just realize you actually enjoy being home!
RELATED READING: 3 things we do to keep our vehicles clean almost all the time.
2. Disposable + pre-packaged foods:
Although my children would love to have individual packages of chips, gogurts, and uncrustables in their lunches every day, we dutifully pack our lunches in reusable containers and insulated lunch bags in an effort to save money, calories, and the environment.
To be fair, I do try to keep their lunches fun — they get sweet treats, salty treats, and sometimes even candy, but we save a bunch by buying in bulk and skipping individually wrapped foods (for the most part).
We received 2 of their lunch boxes as gifts (they are a bit of an investment) but even with buying their lunch boxes, I'm confident we save money in the long run, considering the kids have been using the same lunch boxes/bags since they started school.
3. Napkins:
We've used cloth napkins since we first got married, back in 2006, and we're still going strong all these years later (even with kids).
Of course, we do buy fun napkins for the kids' birthday parties, but other than that, we use cloth and probably save a decent amount, considering we'd otherwise go through 18 napkins a day.
We each have our own cloth napkin, we keep it on our chairs in between meals, and I swap them out every couple of days (or as they get too dirty).
4. Dish Soap & Dishwasher Detergent:
I only use about half the recommended amount of dish soap and dishwasher detergent and my dishes still come out sparkling clean.
I also clean my dishwasher every few months which helps it run more efficiently (saving money on repairs and maintenance).
NOTE: I use this $4 product to keep my dishwasher squeaky clean.
5. Beverages:
I never realized how expensive beverages were until after we got married and I started doing all my own grocery shopping.
Even "healthier" drinks like milk and fruit juices can add up week after week — and don't even get me started on the cost of pricey alcohols, coffees, flavored waters, juice pouches, sports drinks, and pop!
I could easily spend $50-$75 EVERY week on fancy drinks if I bought everything my children asked me to buy.
Instead, we drink water almost exclusively.
We always have milk in the house, Dave drinks black coffee (from Costco), I keep a few tea bags on hand, and I make hot chocolate mix in the winter and buy powdered Gatorade mix in the summer, but that's about it.
For the most part, our family is completely satisfied drinking water or milk — and we save SO much money!
NOTE: If you spend a lot on drinks but would like to cut back — just start doing water for one day a week. Don't go cold turkey because then you'll likely resent the process.
6. Laundry supplies:
Believe it or not, I actually don't use laundry detergent!
For years, I've used these laundry balls and wool dryer balls to wash and dry our clothing without detergents or fabric softeners.
I've been washing without detergent for a few years now and our clothes are still clean. I can't even begin to calculate how much money this has saved us over the years!
I do use a splash of bleach with our sheets and towels, and I put a small scoop of OxiClean (always less than recommended) in with some of the kids' grubbier things.
If you aren't onboard with laundry balls just yet, consider using half the amount of detergent with a half scoop of OxiClean and see if that does the job. I've been told that less detergent is actually better for your clothing.
7. Meat:
Whenever a recipe calls for ground beef, shredded chicken, or any other type of meat, I almost always use 1/2 to 1/3 less meat and then add in extra beans, rice, veggies, etc. as a simple way to stretch our grocery dollars.
I also tend to make lots of frugal side dishes like potatoes, rice, quinoa, salad, homemade bread, applesauce, etc. to help stretch meaty meals like pork chops, roast beef, and pulled pork — so we aren't tempted to fill up just on the meat.
No one ever notices and I save a bit more on our ever-growing grocery bill!
8. Cleaning Products:
In general, I use very few cleaning products (big savings there).
And the products I do use, I usually make myself with frugal ingredients in our kitchen. I even make even my own all-natural face wash and makeup remover and all our own foaming hand soap for pennies… which saves quite a bit over expensive store-bought products.
After over a decade of making my own products, I can honestly say it only takes a minute or two to whip up another batch of cleaning supplies, face wash, hand soap, etc., and then I'm ready to go for several more months.
9. Clothing:
Kid's clothing can be very expensive, and they grow out of it SO quickly.
I've always been a fan of buying used whenever possible — and 98% of all my and the kids' clothing is purchased from thrift stores or hand-me-downs from cousins and neighbors.
Even still, owning less clothing offers big savings — both in money and time spent shopping.
I've shared before that I only have a few pairs of socks and underwear (my kids do too) — and we've never run into any issues. I do all the laundry twice a week so there's no need for us to have more.
Plus, it's easier to keep things organized with less clothing — and if your kids are anything like mine, they wear the same favorites over and over again anyway!
10. Subscriptions + Memberships:
Whew — these can really add up if you're not careful.
And while a few well-chosen subscriptions can certainly make your life a lot easier and more enjoyable, paying for fewer subscriptions is a quick and easy way to slash your monthly expenses!
For example, we unsubscribed from all magazines, newspapers, and cable years ago and we honestly don't miss it (Dave sometimes misses reading a physical newspaper).
We nixed our trampoline park membership after they raised the prices, we took a hiatus from our zoo membership, and we no longer get any meal kits.
We've kept our Costco membership for now (it's roughly $1 per week) and we have an Amazon Prime membership. However, we've canceled almost everything else and I can't think of anything we miss too much.
NOTE: there are apps that can pull up all your subscriptions so you can monitor them (and more easily cancel them).
These are a few ideas that work for our family — just to get you thinking.
There are dozens of other ways you could save more simply by using less, so don't discredit your ability to save.
Even small amounts each week or each month WILL add up over time!
How do you save more by using less?