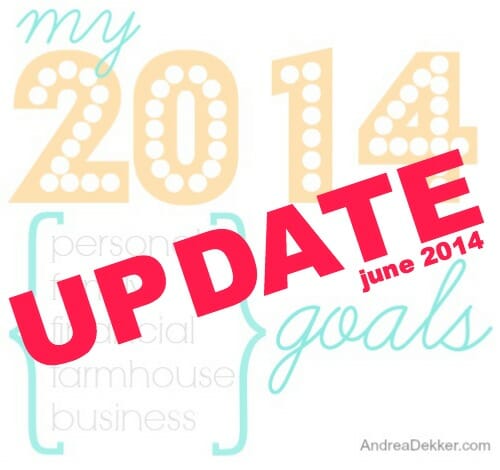 Back in January, I shared the goals I hoped to accomplish in 2014. And now that 2014 is nearly half way through (seriously, how did that happen?) I figured it was time for an update.
Below, I've listed out my 2014 goals in bold type and then my updates for each goal follow. You can also read my original 2014 goals post for more details about each individual goal.
Personal Goals:
1. Be as relaxed and laid back as I can when the new baby comes.
I actually impressed myself with how relaxed I was after Simon was born. To the outside world, I may not have appeared relaxed or stress-free — but compared to my normal very structured self, I rocked this goal!
There were definitely days when Simon, Nora, and I were all crying when Dave got home from school, but for the most part, there were SO many days when I just kicked back, didn't try to get anything accomplished, took naps on the couch with my kiddos, popped a frozen meal in the oven for dinner, and called it a day.
I didn't stress over Simon's "schedule". I didn't try to force him to sleep in his crib (although ironically, it's now his very favorite place to sleep). I didn't get uptight about when, where, or how to feed him. I just took it one day at a time.
2. Get more sleep.
I was doing SOOOO good at this before Simon was born and even for the first 6-8 weeks after he was born. I was going to bed early with him, sleeping in the twin bed in his room, and sleeping in as long as Nora would let me.
But then the weather started to get warmer and we started doing a bunch of house and yard projects — so now I've been staying up WAY too late and getting up WAY too early to pull weeds, water plants, paint the mudroom, spread wood chips, work on blogging stuff, etc. etc.
My plate is full, but it's full of everything I love to do.
Now that Dave is home from school for the summer, we've been trying to get to bed by 10:30 every night — hopefully we can keep each other accountable on this one!
3. Lose my baby weight.
After almost 4 months, I've technically lost all the weight if you're talking about pounds on the scale — but I'm finally starting to understand what my 90-year old grandma meant when she said, "I still weigh the same as I did when I was married, it's just spread out a little differently now".
Obviously it took me 9 months to gain the weight, I shouldn't expect to be back to normal after 15 weeks (at least that 's what I'm telling myself!)
Family Goals:
1. Get Nora moved to her upstairs bedroom ASAP.
100% FINISHED!
Here's her full room tour — and here's the tour of her closet.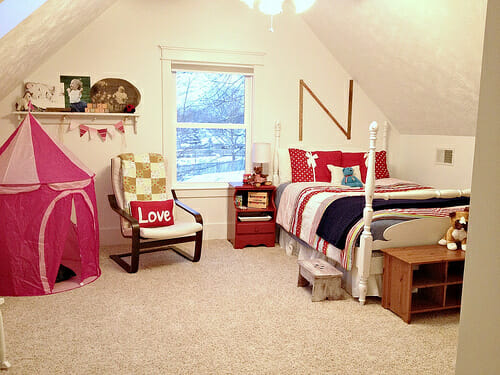 2. Potty train Nora.
Not finished… not even started.
Our plan was to buckle down and potty train her over Dave's spring break in April. However, she woke up that first morning with a runny nose, a sore throat, a cough… and a urinary tract infection. Of course, Simon got sick the next day and we just decided that it wasn't worth trying to battle the sicknesses and pee everywhere, so we threw in the towel before we really even gave it a go.
Our new plan is to potty train her over the summer. I'll let you know how that goes 🙂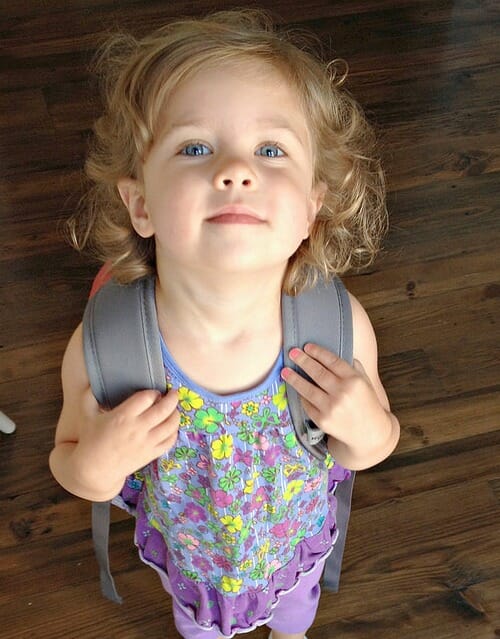 3. Create time for just Dave and me.
Dave and I spend A LOT of time together each day (especially now that school is out). However, we hardly spend any time together with no kids around. One of us is usually playing with Nora while the other one is feeding or changing Simon. Then one of us is taking "double duty" with the kids while the other one is running errands, making dinner, mowing the lawn, etc. etc.
Since Nora goes to bed so late, we really don't even get the late-night hours just to ourselves. And since we are BOTH getting up in the middle of the night with our kids (Dave is in charge of Nora and I'm in charge of Simon) we often don't even sleep in the same bed. True story my friends.
I realize this is just the season of life that we're in — and honestly, I think we're adapting to it pretty well. But I will say that I definitely have not made any progress towards this goal. Maybe once Simon is a bit older, we'll get a babysitter and go do something other than yard work together 🙂
Financial Goals:
1. Fully fund our retirement accounts (we both have Roth IRAs).
We're only half way through the year but since we have our IRA contributions automatically withdrawn from our bank account each month, we're officially half way towards this goal.
2. Pay off 1/3 of our remaining mortgage.
Again, we're only half way through the year — but we are on track to meet this goal. We've already made 3 extra principal-only payments on our mortgage — on top of our regular monthly payments. After we're finished with all our house and yard projects this summer, we hope to make 2 more principal-only payments on our mortgage before the end of the year — and that should allow us to reach this goal.
Also, just as a note of encouragement to anyone trying to pay off debt… it's honestly AMAZING how much of a difference even a small principal-only payment can make over the course of your loan. Even if you can make one or two small principal-only payments on your loan each year, it's SO worth it!
Farmhouse Goals:
1. Get the nursery cleaned up, repainted, set up, and stocked for baby boy.
100% FINISHED — here's the full tour!
2. Finish the other 1/2 of our landscaping project.
We've already done a TON of landscaping this spring and summer — and our hard work is definitely paying off. Our yard is looking the best it's looked yet. I even saw the previous owners at an antique sale last week — and they kept saying over and over how great the yard looked when they drove past!
We're taking a bit of a yard work break right now to focus on building the new deck and finishing the mudroom. Of course, we're still watering all our new plants, weeding our tiny new vegetable garden, and maintaining the lawn… we're just not doing any more demolition or adding any more plants until we get back from our cottage vacation.
Rest assured my friends, we are still definitely "on track" to share all our before and after pictures this fall!
3. Get a new front door and front picture window.
We haven't done anything for this yet — mainly because of the new mudroom project (see below).
You can't tell by looking from the outside — but that new door and new window will make a HUGE difference from the inside. I can't wait to get them in place – hopefully later this summer or very early fall!
4 . A new mudroom / bathroom and laundry renovation.
As I shared a couple weeks ago, we're getting a new mudroom! However, it's not exactly what we thought it would look like — it's better.
Our mudroom will be MUCH larger than we originally planned — and we won't be taking over our main floor laundry room to do it. Because of this, we haven't made any progress with the potential bathroom and laundry room renovations — and honestly, I'm thinking those will probably wait until next year.
Dave and I are 100% OK with this as our new mudroom plan is SO much better. Plus, we're taking on a deck renovation project that we weren't planning to do back when I wrote out my 2014 goals.
Business Goals:
As you might remember, I actually didn't set ANY business goals for myself this year.
I'm at a point where I really can't take on any other Virtual Assistant clients. I have 4 clients that I work regular hours for each month — and that's about all I can handle on top of my own blog and my family, housework, yard work, etc.
I'm super happy with where I'm at right now — and although I'm hoping to make a few minor tweaks to my website over the summer, there is nothing major planned as of right now.
So that's my 2014 goals update — still a lot of things to accomplish, but there's plenty of time left… right?
How are you doing on your goals for the year?