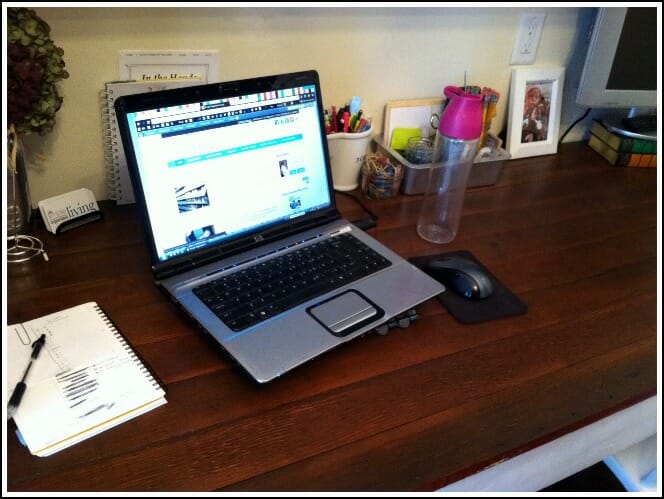 All week long, I've been talking about goals (I guess it's about time since we're already halfway through January!)
On Tuesday, I shared my new Ultra Simplistic approach to 2013, then yesterday, I shared the recap of my 2012 personal goals. Today, I'm looking back on the 12 business goals I made in 2012 — and I won't lie, the results aren't pretty!
I was very optimistic about my list and felt that although my goals were somewhat ambitious, they were also completely doable with a little drive and determination. However, then I ended up with a baby who cried almost non-stop for the first 3 months of her life, never takes naps (ever), and hardly sleeps at night.
I fought it and tried to keep pushing forward… and then I finally gave in and realized that although 2012 was a fabulous year for my business, I was not going to achieve everything I wanted to.
I'm OK with that 🙂
Here's how I did with my 2012 business goals:
Business Goal #1. Increase my income by at least 20%.
Yes.
As I mentioned in this post, it took a while for my tiny little business to start making any sort of real income. But after five years, I've finally managed to turn my full-time workload into a full-time paycheck… and it's about time!
Business Goal #2. Transition from a work-at-home PERSON to a work-at-home MOM.
Yes.
I guess this isn't really a "goal" as much as a necessity. I HAD to make this transition whether I wanted to or not. So while it's a daily struggle to figure out the best way to manage my time, we are making things work — and learning a lot as we go along!
I should mention that Dave is a tremendous help and even though he is also super busy, he always plays with Nora and helps me entertain her when he's home.
Business Goal #3. Prioritize and learn when to say no.
Surprisingly yes.
I thought this goal would be extremely difficult (if not impossible) for me. However, I suppose saying 'no' is a lot easier when you rarely ever sleep.
Unfortunately, many of the things I said 'no' to were fun things — amazing business opportunities and activities I really did want to do — however, for my sanity, for the health of our marriage, and for Nora's sake, saying 'no' was definitely the best choice.
Business Goal #4. Maintain my Virtual Assistant business.
Yes.
This was another goal I was really worried about because I wasn't sure I'd have enough hours in the day to manage my family, my home, my own business, and so many other people's lives, websites, businesses, etc.
While I didn't taking on anything new in 2012, I did manage to maintain everything I was already doing, so I'm happy for that achievement.
Business Goal #5. Start some type of referral program.
Nope… not even close.
However, if you are interested in starting a career as a virtual assistant or a professional organizer, here are a three resources that might interest you.
1. How to start your own blog (in 8 simple steps)
2. The Profitable Organizer (a training to become a Professional Organizer)
3. The Bootstrap VA (an eBook guide to becoming a Virtual Assistant)
Business Goal #6. Transition out of in-home organizing.
Yes.
I actually only worked with 2 or 3 clients the entire year. And although it's a little sad not to be doing this type of work anymore, I know it's the right decision since other areas of my business are taking up lots more of my time.
Business Goal #7. Seek out more private ads.
Not really.
I've had a few companies and brands seek me out for advertising, but I didn't do anything to really dig down and search for potential advertisers on my own. However, I'm in the process of working with someone who's going to help me do just that in 2013!
Business Goal #8. Increase all Ad revenue.
Yes.
Even though I didn't seek out many private ads, I still have Google Ads that performed surprisingly well. And while I'd love to say I did something specific to increase my ad revenue, I know that the only reason my ad revenue is growing is because my traffic is growing. But hey, who's complaining 🙂
Business Goal #9. Publish something.
Sadly no.
I had a fabulous book offer but it was just one of those things I knew I needed to say no to if I wanted to maintain some semblance of a life.
Business Goal #10. More website updates.
Nope — just regular maintenance and upkeep.
I will let you in on a little secret though… I have some huge, Huge, HUGE updates coming later this year!
Business Goal #11. Attend at least 2 blogging conferences.
Nope — not even one.
This was 100% my own choice, but again, I know it was the right choice since Nora basically refuses to eat and sleep when I'm not around.
Business Goal #12. Have fun!
Yes!
It's been a fun year. Even though I only hit 7 of my 12 business goals, I'm happy with where I'm at and excited for another year ahead.
Did you fall short on any of your business or personal goals this year?