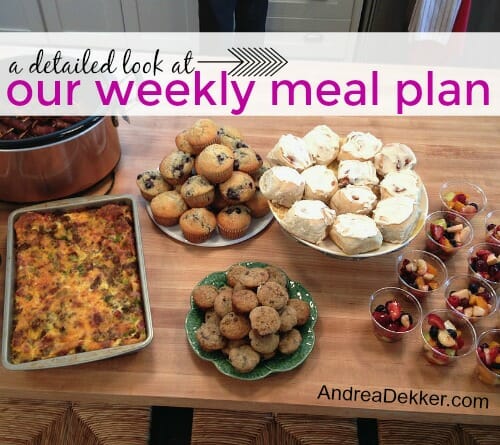 About a year after I started blogging (even before Nora was born), I shared our relatively simple, very straight-forward, weekly meal planning method.
This method of meal planning involved set themes for each night of the week (Mexican, Italian, Soup/Salad, Meat/Potatoes, Leftovers, etc.) and worked wonderfully for us for many, many years — honestly, the concept still works for us now!
This method offers loose structure to my weekly meal plans without being too rigid about specific meals. It offers variety without too many choices, and helps me wrap my brain around planning meals for our family every week (yes, even after 10+ years of doing it, I still don't jump up and down about meal planning!)
However, 8 years and 4 children later, my meal planning methods have morphed and changed a bit — which is probably only normal considering how much my life has morphed and changed!
We still try to incorporate a good variety of foods into our weekly meal plan… but we no longer eat only certain foods on specific nights, we no longer have 1 night dedicated to "eating out", and we almost never have leftovers for dinner as we usually eat them for lunch throughout the week.
That said, much of my meal-planning process still looks the same.
I still plan a meal for each night of the week
I still try to plan these meals around what we have in the pantry, freezer, garden, etc.
I still try to incorporate sale items and in-season produce from the store.
I still try to use simple recipes that can be made ahead, taste good as leftovers, and can be frozen if I choose to make a double batch.
Although I've shared many posts about meal planning over the years, it continues to be one of the most requested post topics… so I'm back again with a more detailed look at what exactly we eat and how I plan all our meals each week.
I'm even including breakfast and lunches in this post!
Here's a sample meal plan for our family of 6.
BREAKFAST:
Since our family loves eating hot breakfasts, I have a rotating list of hot breakfast foods I make every day. I'm to the point now where I actually write down the breakfast plan for each day next to my dinner plan (which I've always written in my planner).
Our family eats breakfast together pretty much every day — minus Dave, who eats breakfast before everyone else on school mornings.
WEEKDAY BREAKFASTS:
I rotate between the following 5 options on weekday mornings — all served with a variety of fresh fruit.
SATURDAY BREAKFAST:
We almost always have a really big breakfast — hash-browns, eggs, bacon, sausage, waffles or pancakes, fruit or smoothies, etc.
SUNDAY BREAKFAST:
We almost always have cinnamon rolls, eggs, and fruit — sometimes store bought cinnamon rolls, sometimes homemade.
HELPFUL LINKS:
.
LUNCH:
Growing up, Dave and I both enjoyed huge lunches on Sunday afternoon — roasts, mashed potatoes, veggies, rolls, etc. We continued this tradition for a few years after we were married until we ultimately decided it didn't work well for us.
We now treat our noon meal the same as every single day of the week, and it seems to have simplified our meal planning SO much!
Our lunches now consist of a variety of the following — all packed the night before on school nights!
Leftovers from dinner the night before (Dave and my preference)
BIG Salads (my next favorite)
Meat and cheese (the kids favorite — sliced summer sausage, pepperoni, and various cheeses)
Sandwiches (ham, turkey, salami, PB & J)
Wraps or quesadillas (some type of meat and cheese in a toasted tortilla)
We serve every lunch with at least one item in each of the groups below.
Fresh fruit
Raw veggies with ranch or hummus
Chips, pretzels, crackers or nuts
HELPFUL LINKS:
.
DINNER:
Dinner is still our biggest meal of the day, as well as the one I spend the most time preparing, planning, cooking, etc.
If we have guests over, it's almost always for dinner; and although we almost never go out to eat these days, we do occasionally enjoy Culver's or Arby's for dinner — usually at home!
MONDAY – SATURDAY DINNERS:
Although I don't specifically assign a type of food to each night of the week, I do try to incorporate variety into our meals. Also, we don't have breakfast for dinner very often anymore as we enjoy hot breakfasts every morning.
Over the past 10 months or so, I've been trying to incorporate MANY new recipes and styles of cooking into my weekly meal plans (I shared more about this in my Peek Into My Week post earlier this week).
My goal has been to try at least one brand new recipe every week — it might just be a side dish, bread, or dessert, but many times it's a new main dish. It takes some extra work to plan and prepare foods I'm not used to making, but Dave and I have really enjoyed the variety, and our kids have learned to like (or at least tolerate) many new foods!
Traditional meat and potatoes meal (roast, pork loin, ham, tilapia) with roasted veggies, fruit, rolls or bread, etc.
Some sort of pasta (often zucchini noodles or spaghetti squash) with steamed or roasted vegetables, garlic bread, salad, fruit, etc.
Some sort of Mexican food (often quesadillas, taco salads, burritos) with guacamole, chips, salsa, salad, fruit, etc.
Something grilled (brats, burgers, pork chops, salmon, chicken) with baked sweet potatoes, squash or rice, grilled veggies
Some sort of casserole (tatertot, chicken broccoli rice, chicken and stuffing, chicken cordon blue, taco pie, etc.) with at least one vegetable and one fruit
Some sort of soup, stew, salad, sandwich, and/or wrap combo meal with fresh bread, crackers, rolls, fruit, raw veggies
SUNDAY DINNER/SUPER:
One Sunday a month, our church has a "supper service" which we enjoy. On the other Sundays, we almost always have frozen or homemade pizza with salad, raw veggies and fruit.
HELPFUL LINKS:
.
That's roughly what our weekly meals look like right now.
I have a couple more "follow-up" posts I plan to do in the next month or two — meal planning just includes SO much information, I feel like I can't put it all in one post or it will be overwhelming (and meal planning does not need to be overwhelming).
I have had seasons of life where I did the absolute bare minimum for meal planning and food prep… and that's OK. We ate a decent amount of processed foods, we ate lots of the same things over and over and over again, we ate very simple meals… but my family never went hungry and we never had an empty fridge or pantry.
Currently, I spend more time planning, prepping, and making food than ever before (I'll elaborate on this in a future post!)
The point is, I always have a meal plan!

It doesn't matter if that meal plan is mac and cheese, frozen pizza, grilled cheese, and cold cereal or if it's goat cheese tarts, homemade calzones, grilled salmon, and spaghetti squash burrito bowls.

As long as I know what we're eating for our meals, what I need to defrost from the freezer, what I need to buy from the store, or what I need to prep throughout the day — if I can achieve this, our days will run smoother, meal time will come and go without crazy amounts of indecision or anxiety, and we won't be tempted to resort to fast food or takeout on a regular basis.
Where To Start?
If you're not sure where to start when it comes to meal planning, my suggestion would be to simply pack lunches, and plan tomorrow's breakfast and dinner before you go to bed tonight.
Choose meals you can make with ingredients you already have in the house.
Choose meals you know how to make easily so it doesn't feel like you're spending all day in the kitchen.
Choose meals your family will eagerly eat
Add simple side dishes like fruit (canned, fresh, frozen) and a slice of bread or a can of corn
Commit to sticking with the meal plan for the day — and then do it again tomorrow night. Eventually, you should be able to work up to planning a full week at a time — but just stick to daily meal planning if the full week seems overwhelming.
If you've never planned your meals before, I think you'll be pleasantly surprised how nice it feels not to wonder "what's for dinner" when everyone is hungry, crabby, and tired after a long day.
You might never learn to LOVE meal planning (I still don't) but you will hopefully love the results of having your meals planned out ahead of time, which will motivate you to stick with it!
What are your biggest meal planning hurdles?
What do you love (or hate) most about meal planning?