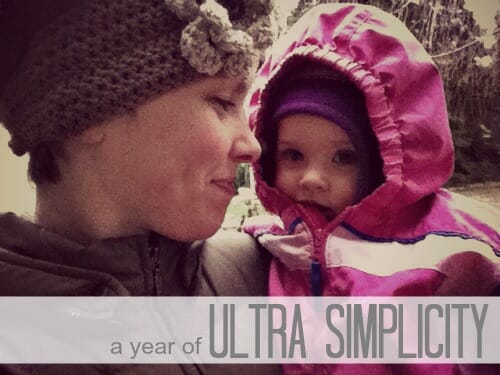 Can you believe we're already half way through January and I haven't said a word about goals yet?
And you know how much I love talking about goals!
Last year, I made a list of 12 personal goals and 12 business goals I wanted to work towards in 2012 — clever huh? And while I actually did a decent job of following through with those 24 goals (I'll be talking more about this over the next couple of days), I feel like 2013 needs to be a year of ULTRA SIMPLICITY for me and for our family.
Yes, we have house and yard projects we want to work on; yes, we have personal and business milestones we want to achieve; yes, we have some lofty financial goals we really hope to reach; and yes, we're continually striving to find just the right balance of home / work / family / life.
I'm sure none of you can relate to that though 🙂
So with another New Year full of possibilities staring me right in the face, I've decided that when it comes to setting new goals, my approach is going to be one of ultra simplicity.
What might a year of Ultra Simplicity look like?
Purging everything we don't need, use, want, or love (even if we have the space to store it).
Saying no to things and activities that aren't necessary.
Saying no to opportunities that we might WANT to do, but might not be the best choice at this stage in our life.
Saying yes to activities we enjoy doing, make us happy, and align with our goal of ultra simplicity.
Not stressing over small stuff.
Following our gut… even when everyone else is telling us to do something different.
Choosing to make time for family, friends, hobbies, rest, and leisure (because we all know that time doesn't just appear)
Simple meals — I'm still loving our ultra-simple method of meal planning 🙂
Lots of lists (only because this is still the best way for me to organize my brain!)
Pushing ourselves in areas we need to be pushed.
Granting ourselves grace when needed.
Saving whenever we can — but not stressing over every single penny.
Giving when opportunities arise.
Moving forward, even when we feel like quitting.
Pulling back when we know we need a break.
Yes, I still have SO many things I want to accomplish and cross off my ever-growing list, but my MAIN goal for 2013 is to approach each of these mini goals and projects with the concept of "Ultra Simplicity" in mind.
Each time I'm presented with a new task, a new challenge, or another request, my goal is to say "yes" or "no" based on how it will either positively or negatively affect my life and our family (not based on guilt, peer pressure, or any number of outside factors).
Yes, I realize that I will still do things I don't love doing (laundry and dishes don't do themselves!), I will still encounter stressful situations, I will still say "yes" to things I should have said "no" to, I will still put too much on my plate (literally and figuratively), and I will still have days when I throw in the towel and move half of my "to-dos" to tomorrow's list (am I the only one who ever does this?).
However, through it all, I will continue to strive for the ideal balance between home, work, family, and life; the ultra-simplicity I crave on a daily basis; and the one-step-at-a-time approach to life that is OH SO difficult for my "do it now" personality!
I'm so excited to share this year with you!