I can't believe it's already the middle of January…how are you doing with the goals and resolutions you set just 2 weeks ago?
I don't know about you, but I've had so much fun blogging about my 11 in 2011 challenge! I feel confident that I've set 11 very reasonable goals for myself and I'm excited to work towards them over the next year.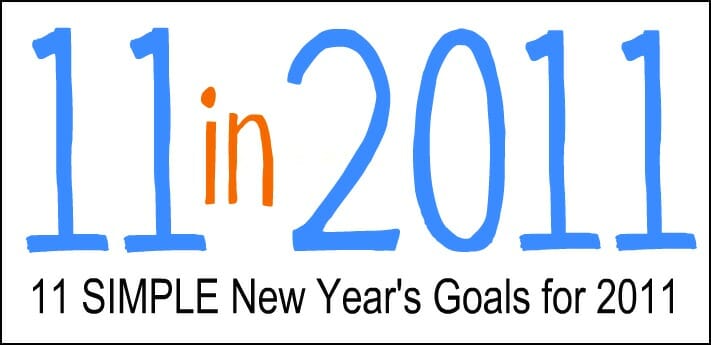 And if you missed any of my 11 SIMPLE goals…here they are for your weekend reading pleasure!
11-in-2011 Challenge Recap:
Goal #1: Make Your Bed — I'll even give you 10 reasons why!
Goal #2: Keep The Freezer Stocked — plus recipes
Goal #3: Track Your Finances — plus a free downloadable tracking form
Goal #4: Purge Something Monthly — this ought to give you some motivation 🙂
Goal #5: Better Time Management — something we can ALL get better at
Goal #6: Establish a System for Pictures — lots of good suggestions in the comments
Goal #7: Systematize Your Grocery Shopping — I'll show you how I do it step-by-step
Goal #8: Get More Sleep — enough said…
Goal #9: Try Something New — see what new things I'm planning for 2011
Goal #10: Organize Your Paperwork — take time to do this NOW, before tax season arrives
Goal #11: Make Time for what Really Matters — I will be working hard at this in 2011
What are you waiting for?
What will you do to make 2011 the BEST year yet!