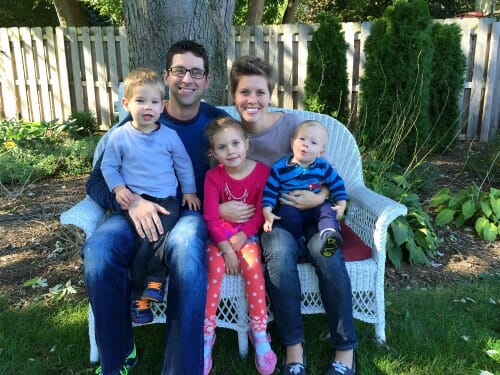 School has been in "full swing" for Dave for about 6 weeks now, and it's amazing how quickly we have adapted to our new routine.
We're all going to bed earlier and getting up earlier, and I'm happy to say that it has been fairly easy to get everyone up, dressed, fed, and out the door by 8:00 in the morning. Although we don't necessarily NEED to be out the door by 8 every morning, we have just sort of gotten into that habit and it has been nice to start our weekdays at a consistent time.
Some mornings we need to bring Nora to school, some mornings I run a couple arrends before the stores get busy (I definitely didn't realize Costco wasn't open until 10:00!), and other mornings we just go for a walk or play outside while it's nice and cool.
You'll probably notice by the pictures below that there were times we had hats and gloves on and times we were in shorts and t-shirts… that's a Michigan Fall for you! The kids changed their clothing 2 – 3 times a day… which was reflected in the massive amount of laundry I did this past weekend!
Overall, last week was fabulous Fall weather — cool and foggy in the mornings, warm and sunny in the afternoons with a light breeze so you never got too warm.
The nights were just warm enough that we could keep the windows open a little bit as long as we had an extra blanket on our beds — my absolute FAVORITE sleeping weather, and one of the many many, many reasons I love Fall!
Aside from one really rainy day when we were either inside or playing on the front porch, we've been outside as much as possible the past couple of weeks.
We have a ridiculous number of bikes, scooters, cars, and other ride-on toys… but thanks to our long driveway, the kids (and the neighbor kids) play with them all on a daily basis.
Nora has been in major "craft mode" the last few weeks — beading, coloring, painting, braiding, etc.
We found a huge container of random beads at our local thrift store for $1 and ever since then, Nora has been faithfully organizing them into a storage container we got from a church friend.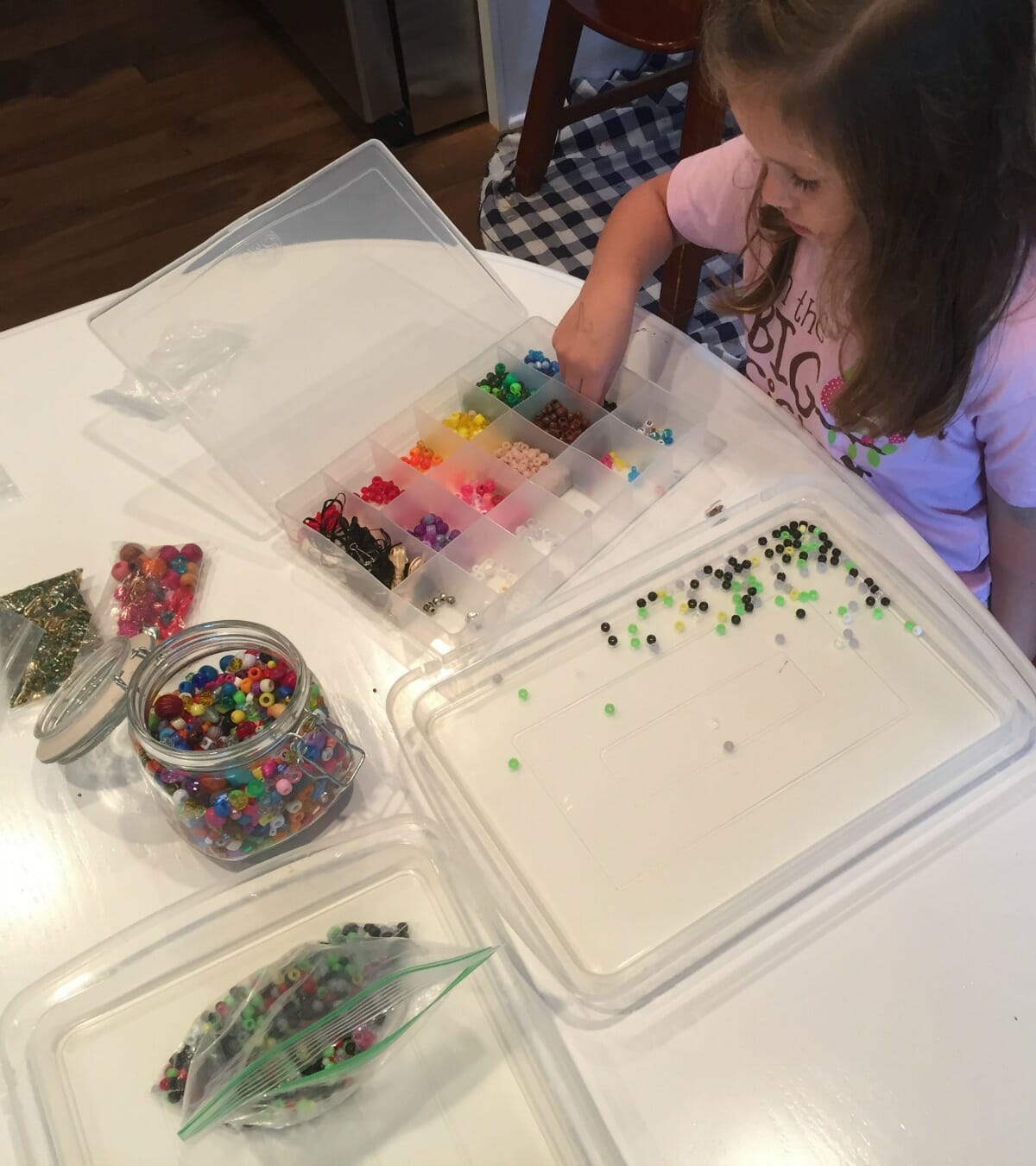 She loves making anything with beads right now, she is obsessed with braiding string and yarn, she wants to paint almost every day, and she is getting very good at coloring in the lines (something she is quite proud of).
Nora also spent several hours last week drawing an entire town on our driveway with the last of her sidewalk chalk.
She had roads, sidewalks, rivers, ponds, railroad tracks, houses, schools, play grounds, a library, fire pits, cars, trucks, trains, animals, trees, flowers, vegetable gardens, and even tall buildings.
Any time I wondered where Nora was, I just went outside to find her drawing something else.
.
Simon seems to be at the point where he might not need quite as much sleep as he used to. He still takes a nap every day (usually around 1 hour) but he's been waking up earlier and earlier every day (often before Nora — which NEVER happened before).
I've been letting him play longer after lunch in attempts to shorten his nap… and one day, I let him try going without a nap. He played contently outside with Nora for a long time after lunch. He helped me in the garden and insisted that he wasn't tired.
Later, after we all came inside, I found him completely cashed out on the couch even with Nora and James playing loudly right in the middle of the living room! Looks like he might still need an afternoon nap 🙂
Simon's new thing is puzzles… he LOVES puzzles. Everyday, we do the same handful of puzzles numerous times and he's always amazed when he finished — like he can't believe he actually did it all by himself!
He seems to talk non-stop and is learning new words daily. He's still somewhat difficult to understand, but we're making such huge progress with his speech therapy. He's in the stage where he says "me" instead of "my"and it's SO fun to hear him jabber away throughout the day — "me scooter", "me water", "me belly"!
Oh, and sort of silly, but we finally found a pair of jeans that fit this boy and I think he's requested to wear them every single day since 🙂
.
James is in the process of (slowly) getting all 4 I-teeth and all 4 one-year molars — poor little guy 🙁
He has been extremely happy during the day, but I think the pain is just enough that he's been waking up more at night. The one good thing about his frequent nighttime wakeups is that he has been taking REALLY long naps.
The other night, as I laid him down in his bed, I said "I love you"… to which he promptly responded "ah wo wu" with a big cheesy grin on his face. Ever since then, he has said "ah wo wu" over and over as I put him in his crib… and then giggles when I respond with "I love you too!"
He is such a sweet little boy — definitely stubborn at times — but oh so sweet.
I feel like I have nothing exciting to share… I basically do the same things over and over, day after day.
I make food, clean up spills, change diapers, wash clothes, clean the house, file papers, pull weeds, pick up toys, delete emails, write blog posts, kiss away tears, read stories, fill water cups, run errands, etc.
I did clean out our "craft corner" with Nora's help, and I did a quick clean of our laundry room cabinets… but the rest of the week was spent in "maintenance mode".
I found a cute little wooden TV cabinet for $12 from our local thrift store and I'm hoping to make an "addition" to the kid's play kitchen. I'm not sure exactly what I'm going to do with it, but since all 3 of them love playing with the kitchen, I figured it might be nice to have a little extra space.
.
Our Weekly Menu Plan
SUNDAY
steak on the grill
green beans
zucchini
fruit
garlic bread
Oreo ice cream pie
MONDAY
broccoli and cauliflower
fruit
TUESDAY
WEDNESDAY
chocolate muffins (recipe coming later this week!)
THURSDAY
broccoli and cauliflower
fruit
Oreo ice cream pie
FRIDAY
SATURDAY
We had my family over for dinner since one of my sisters and her husband were in town over the weekend.
pork loin
fruit salad
rolls
.
We have lots of fun activities planned for this week, including Nora's first field trip and a fun outing for Simon with a neighbor friend. We're also gearing up for a mini "vacation" to visit my sister and her husband next week!
Also, here's my favorite out-take photo… at least James is looking 🙂