This post may contain affiliate links. If you click through and take action, I will receive a small compensation (thanks!) Read my disclosure policy.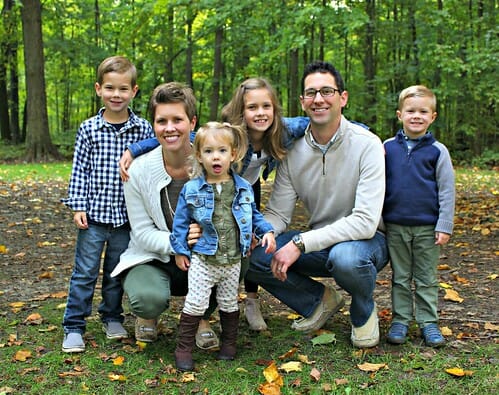 November 11, 2019…
Thinking back to exactly 8 years ago, I remember desperately wanting to go into labor today. I was already overdue… and since it was my first baby, I was completely oblivious to how much easier babies are INSIDE versus OUTSIDE!
I just wanted to be DONE being pregnant and meet our little girl. Plus, I really wanted the super sweet 11-11-11- birth date! 🙂
Of course, Nora held out for 11 more days and graced us with her presence on 11-22-11 (still a pretty cool date in my opinion!)
Now, 8 years later, we're excitedly planning birthday festivities for her upcoming big day — which will involve going to the movie theater for the first time ever to watch Frozen 2 (it comes out on her birthday) with her "birthday twin" friend from school and the friend's mom.
Yup, she's excited!
I'll share more about her birthday in a couple of weeks, but since so many of you have asked, I thought I should mention that we ARE planning to give her an American Girl Doll. We haven't purchased anything yet (new or used) as we're going to let her choose which one she wants versus trying to surprise her with an actual doll on her birthday.
We already have the matching PJ set ready and waiting! 🙂
Nora loves dolls, playing outside, doing crafts, hanging out with friends, reading, and coming up with various games and activities for her younger siblings to participate in.
She is full of energy, she is extremely competitive, and she loves to be the best (gee — I have no idea where she gets these traits from)
.
As for the other kids…
Simon is obsessed with words — constantly trying to sound out words and asking me "what does that spell" or "how do you spell ______" ALL. DAY. LONG!
For the little boy who took almost 3 years to say anything at all, he sure is making up for lost time now. Our house feels SO quiet on the days he's gone to Kindergarten!
He loves drawing, coloring, and painting… and he's in the process of making a "football book" by coloring, drawing, or tracing all different football team logos, mascots, etc.
He has 2 "jerseys" that he wears every single day they are clean — which usually results in wearing them to school multiple days each week.
Simon is still one of the most conscientious children I've ever met — ALWAYS worried about making things fair for everyone and keeping the peace among others.
He has a wild stubborn streak that he often shows at home (it's infuriating how stubborn he can be). But for the most part, he is still one of the kindest, sweetest boys I know — we'll see what his teacher says at conferences in a few weeks!
.
James is still as sweet as ever — almost always smiling and finding something to laugh about.
He hasn't been interested in going outside much these past few weeks. He prefers to stay inside and build with Kid K'NEX and LEGOs or play various games — his current favorites are Trouble, UNO, Sequence Dice, and Candy Land.
James is our math-lover just like Dad… he's always asking about numbers and doing random addition problems in his head (which he then feels the need to share with everyone around him)!
He continually professes his devotion to "Michigan State" while Simon stands strong as a "U of M" fan — neither one has any idea what they are really talking about, but it's fun to listen to them talk about their "teams" and favorite colors being green/white or maize/blue!
.
And last but not least — Miss Clara…
A couple of weeks ago, I realized that I never made Clara's 2-year old photo book! Seriously!
In my defense, I always wait to make the individual children's photobook until after their birthday, then I whip it out in one afternoon (their books are small and quick). So, I'll work on it sometime this weekend, and then I'll save it to print with Nora's new book during the Black Friday sales — Blurb usually has a 45% off coupon then!
Other than that, life with Clara is pretty good. She talks all the time, she's learning her colors and shapes, she constantly asks to play with "gak", and she LOVES singing… and candy!
She's been slightly under the weather for the last week or so — coughing and snotty, which apparently provided the opportunity for our normally non-napping little girl to snuggle up with mom for a 45-minute snooze last week!
.
Our family pictures…
My family had extended family pictures scheduled a couple of weeks ago… so we got a few of just our family as well.
We didn't do any individual kids pictures or lots of different poses, but having a few updated family pictures is always nice (especially when it's time to update my digital photo books!)
Clara was not her normal smiley self — but everyone else did just fine and we got 2 halfway decent shots (I have very low expectations for family pictures with 4 young children) so I'm happy.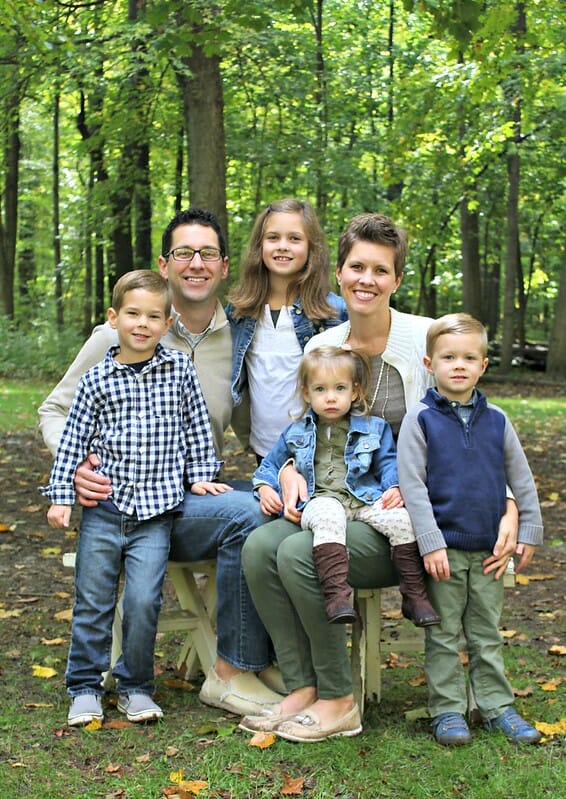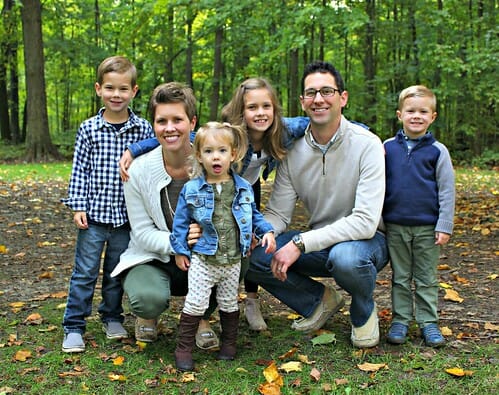 .
At Home:
No big news or updates from home — we had a few trees cut down, we have a bazillion leaves to take care of, and we got our first snowfall!
Other than that, we're just keeping up with all the daily stuff… which some days feels like a lot and other days feels extremely manageable.
On The Business Front…
I feel like I'm on the "edge" of so much potential growth in my business… I'm just not sure how to capitalize on it.
Some of the things I've been working on over the past 2-3 months are:
I quit all but 1 of my Virtual Assistant jobs to allow more time to focus on my own work.
I dabbled in video blogging for about 2 months, making a few videos and then stalling a bit on this project. Dave and I have plans for trying video blogs again after the New Year.
I've been learning as much as I can about Search Engine Optimization, keyword research, and headline analysis. My brain is now full of mind-numbing facts about things I really don't care about… but the facts are stuck in there now and I must put them to use!
I'm working to create a whole bunch of new editable printables (replacing the ones on my blog that are almost 10 years old!)
I'm trying really hard to like social media. So far, I still don't love it, but I'm committed to giving it a good effort for a while yet.
I'm in the process of setting up an email newsletter (if it doesn't kill me first!)
I've taken a couple of online courses explaining the ins and outs of writing and marketing eBooks, and I have topics for a few eBooks in mind — with the goal of publishing them all in 2020 (lofty… maybe!)
I won't lie, right now it all just feels like a TON of work without all that many tangible results, but I'm pressing on in an effort to grow my blog.
Years ago, I promised myself that if I was still blogging when my youngest child turned 2, I would "step it up a notch" and push myself to do more with my business.
So… my youngest is 2, and we're entering into a brand new decade. After roughly 7 years of just "coasting along", it feels like it's the right time to get to work if I want to stick to blogging for the long-haul!
Part of me feels weighed down by the extra work, but I know there are times in life when extra busyness is essential to growth… so I'm hoping this is just a season of busyness that will "open some doors" for me SOON!
Dave has been nothing but encouraging, helpful, and supportive — always listening and offering advice or suggestions when asked. I honestly don't think I could do it without him!
NOTE: if you have any tips or suggestions of things you like to see change on the blog, please let me know!
.
Our Menu:
No books or TV for me these past few weeks — but I have still been cooking and baking quite a bit!
SUNDAY:
Breakfast = cinnamon rolls, eggs, bacon, fruit
Lunch = Leftovers
Dinner = potluck at church
MONDAY:
Breakfast = hearty whole-grain oat pancakes, scrambled eggs, sausage, fruit
Dinner = Taco Pie (an updated version of this oldie-but-goodie recipe), refried beans, guacamole, chips and salsa
TUESDAY:
Breakfast = hearty whole-grain oat pancakes, fried eggs, bacon, fruit
Dinner = I had leftovers, the kids had macaroni and hot dogs (Dave was gone)
WEDNESDAY:
Breakfast = oatmeal, fruit, donuts (Dave didn't have to get to school as early so he picked up donuts for the kids)
Dinner = spaghetti squash casserole, roasted cauliflower, green beans, homemade bread, fresh fruit, applesauce
THURSDAY:
Breakfast = sourdough starter pancakes, scrambled eggs, sausage, fruit
Dinner = hearty egg casserole, toast, fresh fruit
FRIDAY:
Breakfast = sourdough starter pancakes, scrambled eggs, bacon, fruit
Dinner = beef stew, baked carrots, roasted veggies, homemade bread, applesauce, fresh fruit
SATURDAY:
Breakfast = Baked French toast, fried eggs, bacon, fruit
Lunch = Grilled cheese, fruit, raw veggies
Dinner = Chili, cornbread, salad, fruit
That's all for me this week!
I hope you are enjoying Autumn and getting organized for the upcoming holiday season. Our family will most likely keep our holiday festivities fairly low-key again this year. I'll be sure to share them on the blog eventually! 🙂
Have a good week!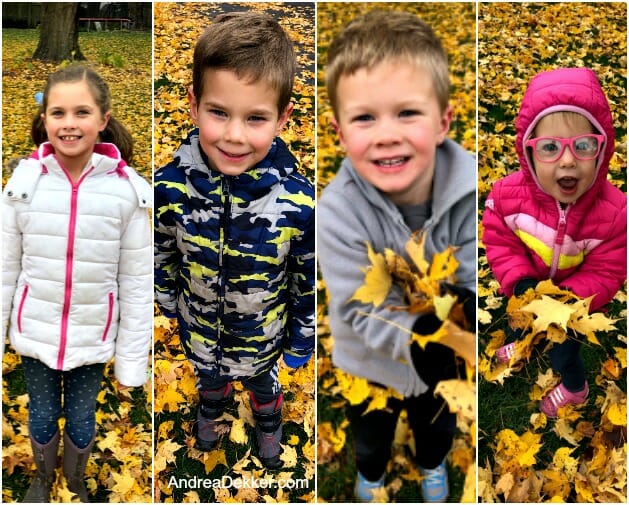 NOTE: Clara's glasses are "fake" — just for fun!