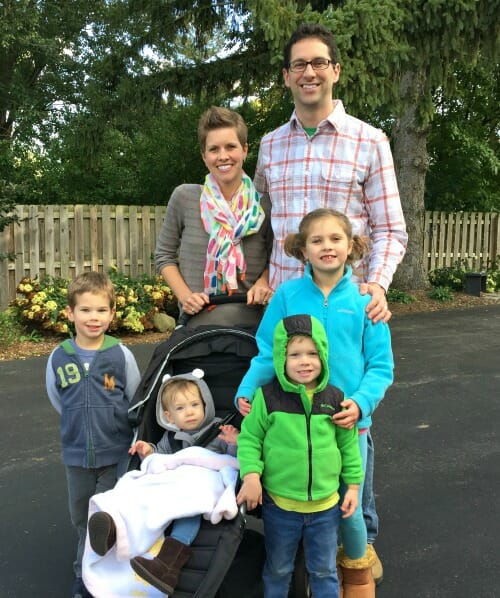 And just like that… it's MID-October!
The next 2 weeks are very FULL for our family — family birthdays, parent-teacher conferences, teacher convention, a baptism and weekend visit with family, a friend's gathering, extra stuff going on at church and school, a double bridal shower, Halloween parties and community events, and we're getting family pictures! I suppose it's just preparation for the busyness that will follow once all the holiday parties and activities are in full swing!
I figure I should squeeze in a quick peek into our week update before that all starts though!
So far, we've enjoyed a fairly uneventful start to the school year. We're just about 2 months in and everyone has adjusted very well. Dave's classes are going well, Nora LOVES 1st grade, Simon has already changed and matured so much since starting preschool, and James is thoroughly embracing his role as "the biggest kid" when Simon and Nora are both gone. 🙂
Of course, Clara is happy no matter what — as long as someone is around to give her a little attention every now and then!
.
Nora absolutely thrives on her independence at school!
She loves riding the bus with her friends and always has specific toys and accessories she NEEDS to bring on the bus.
She loves going to library and getting to pick out her own books "without any help".
She loves keeping her snack bin in her locker and being able to choose whatever snack she wants each day.
She loves coming home and telling us what she did that day… and then asking Simon what he did in school. Simon has the same preschool teacher Nora did 2 years ago, so she'll often make comments like, "oh yeah, I remember doing that." or "you'll probably do _______ next week because that's what we did."
Nora is still a drama queen (I'm actually nervous for her tween and teen years) but the routine, consistency, and independence she gets at school is perfect for her.
She is considering joining the Math Pentathlon (potentially with Dave volunteering) so that will be a new experience for us. And of course, we're gearing up for her birthday next month! I'm sure I'll have so much more to share on that eventually!
.
Simon had his first field trip to our favorite apple orchard and bakery.
The weather did not cooperate (48ºF and rainy) but we bundled up and still had fun… and we got a dozen donuts! We also brought back a half bushel of HoneyCrisp apples and now I think we're spoiled. We won't ever want to go back to our other favorite apples because the HoneyCrisp are so sweet and delicious!
Simon has become obsessed with drawing, coloring, painting, and writing. He draws and colors in all his spare time and is incredibly detail oriented. He's finally starting to write letters and numbers (he always refused to do this before) and will now write his name.
It's so interesting for me to notice differences between children — Nora would easily write her name at 3 years old and James is starting to write his name, but Simon absolutely refused to write it until just recently!
.
James has been mom's helper… and boy does he love helping!
He helped me put up our small amount of fall decorations, he helped me get a few groceries with the kiddie shopping cart, he helped me pull weeds, pick the garden, and fill the yard waste, and he often helps me bake or make dinner.
He is finally willing to pee standing up (a big accomplishment for us) but he always wants me to be in the room with him to "make sure he doesn't spray pee all over the place".
Last week, as we were cleaning up some "sprayed pee" he said, "mom, do you think when I'm 10 I'll be able to get all my pee in the toilet?"
Seriously, this kid is so cute! I told him "yes", but I have a feeling I'll still be cleaning up sprayed pee in my bathrooms even when he's 10!
.
Clara celebrated her first birthday last month, and although we did not have a traditional birthday party for her, she definitely was not forgotten!
We had her 1-year doctors appointment last week and she's growing well. She is apparently fairly tall and lean — which makes sense considering she takes after Dave's side of the family more than any of our kids so far!
She has completely gotten over her little bout with "stranger danger" and now willingly goes to nursery every Sunday and on Thursday when we go back to church for a Bible study. It's amazing how well she handles being around both children and adults she isn't totally familiar with. This must be why youngest children are so much more adaptable than oldest children!
.
One-Room-Per-Week Organizing Progress:
For those of you following my one-room-per-week organizing progress (an attempt to purge my entire house before the end of the year), I spent this past week working in our master bedroom and closet. (Read the update on the first 5 rooms in this post).
The bedroom part really wasn't much work at all — maybe 10-minutes tops — however, I spent quite a bit of time in our closet. I currently keep all our extra gifts on the top shelf of our closet and that area was getting slightly out of control. I've been stockpiling little gifts all year long, and now that we're gearing up for gift-giving season, I needed to take stock of what I have and start mentally assigning gifts to the various people on our list.
I have everything ready to go for Nora's birthday next month, and I've made a huge dent in the Christmas gifts we need to buy this year. It definitely feels good to know I have a jump start on my holiday shopping… and to have our bedroom neat, organized, and decluttered again!
.
Aside from general home and life responsibilities and a few small organizing projects, the vast majority of my time has been spent in the kitchen. As you'll read below, I've been experimenting with new recipes, new ingredients, new seasonings, and new ways of cooking / baking over the past 6-8 months or so. It has sort of become my new hobby, and I'm thoroughly enjoying my extra time in the kitchen.
Since I'm not making much time for reading or Netflix, I thought I'd share many of the new recipes I'm trying instead of the books and shows I'm NOT reading or watching!!
Here are a few NEW recipes I've tried recently:
90-Minute Brown Butter Cinnamon Rolls: These were REALLY good if you like very soft, doughy, gooey cinnamon rolls. They are the type you need to eat with a fork!
The Best Ever Homemade Cinnamon Rolls: These were good too (are there really any bad cinnamon rolls!)
Bakery Style Lemon Poppyseed Muffins: We were hoping these would be similar to the Costco muffins… they are NOT. They are very dense — more like a scone.
Spaghetti Squash Burrito Bowls: I used leftover spaghetti squash, leftover meat/bean taco mixture, and leftover toppings to make my own version of this recipe for lunch — SO tasty!
Pumpkin White Bean Chili: I'll admit, this did not originally sound like the most appetizing combination for a chili recipe, but the pumpkin added good flavor and we really enjoyed it!
Homemade Tomato Herb Soup: this was SO good and impossibly simple — I might never buy canned tomato soup again!
Cheesy Zucchini "Rice" Casserole: I shared this recipe on the blog last week — it's been a family favorite of ours all summer!
Unstuffed Cabbage Roll Soup: I love cabbage, so of course, I liked this recipe. Dave on the other hand, does NOT like cabbage — but he still really enjoyed this soup!
Sweet Potato, Black Bean, Quinoa Chili: yes, more chili! I seriously didn't even miss the meat! we enjoyed this with my semi-homemade cornbread!
Pumpkin Waffles: we all really liked these, but Dave says my "regular waffle recipe" is better 🙂
We had friends over last weekend for a big Greek Feast — all of which were also new recipes for me. I had gotten some amazing Greek seasonings from Penzey's Spice and wanted to try them out. I found a bunch of yummy sounding Greek recipes and made them all for one big meal.
Our Greek meal was a big hit — not something I would want to eat every day (or even every weekend) but still fun for a change!
.
Our Menu Plan From Last Week:
SUNDAY:
Cinnamon rolls, eggs, and fruit (breakfast)
Leftover Greek food from our dinner party with friends the night before (lunch)
Frozen pizza, salad, veggies, and fruit for (dinner)
MONDAY:
Chips and salsa
Lettuce salad
Raw veggies
Fresh Fruit
TUESDAY:
WEDNESDAY:
Raw veggies
Fresh Fruit
Banana Splits (Simon has been requesting these for the past month!)
THURSDAY:
Lasagna — made with Spaghetti Squash
Fresh Fruit
Garlic Breadsticks
FRIDAY:
Grilled brats and chicken sausages
Fresh Fruit
SATURDAY:
We celebrated Dave's Mom's birthday at our house with a "Mexican Feast"!
.
That's it for our family this week… I'm excited to share more recipes, more organizing progress, and our family pictures in a couple more weeks!
For now, I'll leave you with our tentative plan for Halloween costumes… Jake and the Neverland Pirate theme (Simon also wants to do this for his birthday in March).