Posts Tagged 'whole grain'
posted by Andrea | 04/17/2019 | 20 comments
As I've been integrating more whole grains into our daily diet, I've started the process of "making over" MANY of my favorite recipes. 
This banana bread recipe was the very first quick bread / muffin recipe I made over — and after pulling several successful loaves of 100% whole grain banana bread from my oven these past few months, I believe I'm FINALLY ready to share my recipe on the blog! 
posted by Andrea | 03/27/2019 | 19 comments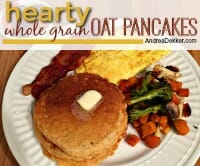 Pancakes were the very first food I made Dave, the morning after our wedding — they have been a favorite food of ours ever since.
I've "healthified" my pancake recipes quite a bit over the last several years; most recently with the addition of freshly ground grains! Today, I'm sharing our family's top favorite — whole grain oat pancakes (and no, you don't need to grind your own grain to make them!)