Guest post from Lisa of Warrior Mama and Organize 365:
I have always been an organized person. In college I typed and color-coded my notes for school. My 20's were very organized and went just according to plan…
1994 – I graduated and started teaching
1995 – I got married
1996 – We purchased our first home
1997 – I started a home-based business on top of my full-time teaching career
1999 – I quit teaching and worked full-time from home
2000 – We had our first baby
2001 – We had another baby!
But by 2002, I was overwhelmed with babies, their medical needs, my booming home business, and LIFE!
Fast forward a decade.
Just as I find in many of the homes I organize, my paper was out of control even though there were good organizational systems underneath.
I would have never believed that one day I too would need organizational help. However, a decade of "pile it and file it" led to mini paper mountains everywhere.
Something had to change…
I started with old tax files and slowly purged through each paper area of my life: taxes, manuals, important documents, etc.
I made quick and steady progress until I hit the daily paper clutter — the coupons, bills and school notes on the kitchen counter, directories that seem to multiply overnight, school calendars, items you are saving to scrapbook someday, etc.
That daily paper is NOT clutter, but if you file it, you'll forget it.
So what can you do?
It took me 6 months of refining my systems to come up with a solution that has worked for me and my clients.
My active papers are now divided in 3 places: a weekly basket, a counter top filing system, and a drawer filing system.
My new e-book, 10 Steps to Organized Paper, walks you step-by-step through tackling your past piles of archived paper, and guides you through a tailored active-paper organization sequence that will have your daily papers organized and OFF your kitchen counters… for good!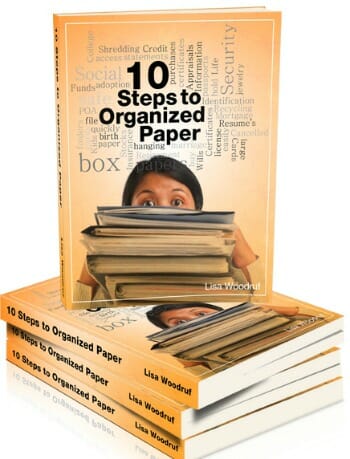 If you struggle with paper clutter and are dreading the end of the school year when ALL that additional paper clutter enters your home, don't wait…
Lisa is a Cincinnati mom who blogs at Warrior Mama "Helping busy moms…Manage All Mama's Assets". Lisa also shares her organizational tips on her blog Organize365: Helping Busy Mama's organize their busy lives.
---
24-HOUR GIVEAWAY!
This giveaway is now closed… the 5 winners will receive an email from me.
Today, FIVE lucky Simple Organized Living readers will win a copy of 10 Steps to Organized Paper.
How to Enter:
1. Leave a comment on this post. Where is your biggest pile of paper clutter?
If you are reading this in your email or feed reader, please visit the actual blog post to enter. Email entries, Facebook comments, and Twitter messages will NOT be counted.
Prizes:
(5) 10 Steps to Organized Paper eBook as described above
---
This giveaway ends at 9:00 am on Wednesday, 5/23/2012 and is open to US residents, 18 years or older. I will use And the Winner Is to select the winning comments at random. Winners will be notified by email and noted at the top of this post. Winners must respond within 48 hours of notification to claim their prize or I will choose a new winner. Please see my full disclosure policy and contact me with any questions you have. Good luck!