Do you have a favorite cleaning product?
What about a go-to cleaning tool?
And do you use cleaning routines or not?
These are all questions I'm asked fairly regularly… so I recently went through all my cleaning supplies and made one giant list of every single cleaning product and tool I use, along with how I use these products and tools to keep our home neat and clean enough.
Of course, my ultimate list" of cleaning products is an evolving list.
Due to the nature of my job (and my personality) I'm always on the lookout for new, better, less expensive, more helpful, more natural cleaning tools to use in my own home (and to share with you.)
So while I can assure you that none of the links below are sponsored, I can't promise I will always use these exact cleaning products forever and ever.
Deal?
A Quick List of My Favorite Cleaning Tools
If I had to pare down my cleaning products to the bare minimum — the ones I use every single day, this would be my list.
GENERAL:
LAUNDRY:
FLOORS:
A couple of good brooms and a dustpan
Vacuum (I'm looking for a new one, see request below)
For those who prefer a more thorough list, I did a walk-through of my entire home this past weekend and compiled a list of all the cleaning products in our home, where I store them, and what I use them for!
In my experience, cleaning is more enjoyable when your supplies are easily accessible and somewhat organized.
If you need a little motivation to clean up and declutter your cleaning supplies, this post oughta do it!
---
Cleaning the Kitchen:
Although I spend a fair amount of time cleaning the kitchen, I actually don't keep all that many cleaning products in the kitchen — just whatever will fit under the sink.
I clean our kitchen counters multiples times per day. And, in general, I try to wipe down the kitchen surfaces as often as possible.
Here's a list of cleaning products I currently keep in the kitchen.
Paper towel
Disinfecting wipes
Dish Soap
Rubber gloves, sponges, and scrubbers
Dustpan and hand broom
Related Reading:
---
Cleaning Our Master Bathroom:
Although our bathroom isn't actually attached to our bedroom, we still call it the "master bath" because it's the bathroom Dave and I use. Plus, it's tucked back right next to our bedroom so it almost feels like a master suite!
I clean our bathroom on a weekly basis — with a few touch-ups throughout the week as necessary.
We keep the following cleaning supplies in our bathroom — all tucked nicely under my sink (the left one).
Disinfecting wipes
Toilet brush and toilet bowl cleaner
Related Reading:
---
Cleaning the Kids' Bathroom:
We are so thankful to have a separate, very large full bathroom upstairs for the kids.
We have done some work to update this space, but it's far from "finished". However, it's super functional for the kids and meets our current needs just fine.
I thoroughly clean the kids' bathroom once a week, but I also wipe down the sink and the toilet almost every night (usually during Clara's bath).
We keep the following cleaning products in the kids' bathroom (in the red hutch above the toilet so little kiddos can't reach).
Disinfecting wipes
Paper towels
Toilet brush and toilet bowl cleaner
Related Reading:
---
Cleaning Our Half Bathroom
A couple of years ago, we turned our previously TINY laundry room into a fairly spacious half bath located right off our back door and mudroom area.
It's perfect for our needs!
Our half bath is in near-constant use as our kids always wash their hands immediately after coming inside, and this is the bathroom all guests use when they're on the main floor.
Because of the heavy traffic, I clean this bathroom every night, often swapping out the hand towels multiple times per day so they aren't soaking wet.
Related Reading:
We designed this room with a huge amount of storage, so we store the bulk of all our cleaning supplies in the half bath.
Under the sink:
In the cabinets above the sink:
A basket of t-shirt rags, cleaning cloths, dusting cloth, window cloth, and sponges
A small basket of WD-40, Goo Gone, extra plastic gloves, rubber gloves, and scrub brushes.
Iron (this will eventually move to the laundry room)
A few smaller buckets that we use for various cleaning tasks
Extra toilet paper, paper towel, tissue, bags, light bulbs, etc.
Extra towels
---
Cleaning Our Laundry "Room":
As I mentioned above, our former laundry room is now our new half bathroom — and our former full bathroom (right next door) is not-so-patiently waiting to be transformed into a new (much larger) laundry room.
We've been waiting for 2 years already because once we finally decided how we wanted to renovate this space, my dad was too busy to help.
Hopefully it will happen within the next year!
For the time being, our only laundry area is in the basement. It's not ideal, but it has worked for over 2 years now and I'm not complaining (well, maybe a little complaining every now and then!)
Because of the inconvenient basement location, we don't keep many cleaning supplies in the laundry area.
I also don't do much to clean this area — just wipe down the machines every now and then and sweep the floor.
These are the cleaning supplies I keep in the laundry area:
Related Reading:
---
Cleaning the Garage:
We're outside a lot, so it makes sense to have a few cleaning tools in both our garage and outbuilding.
Paper towel
Baby wipes (for sticky, messy fingers)
Push broom and wicker broom
Buckets and dish soap for washing cars, bikes, scooters, etc.
We try to pick up the garage every evening before heading inside. I also sweep it out at least once a week. And we powerwash the floors twice a year.
Related Reading:
---
Whew… I think that's everything!
But before I wrap up this comprehensive post, I want to share a few more of my favorite cleaning resources.
The cleaning routines that work for us.
I've always been the type to clean when it's dirty and not worry too much about it in the meantime. But as we've added more people to our family and more schedules to our calendar, I realize that utilizing a few cleaning routines simplifies my days and make it easier to keep our home clean enough.
Here are a few of the cleaning routines that work well for our family.
And… 2 more links to round out this comprehensive post!
---
Now… for the vacuum:
I get so many questions about what vacuum I use or what vacuum I'd recommend, but I don't have a great answer because I don't think I've ever had one vacuum that I love for years and years.
We've used a handful of Hoover and Oreck vacuums over the last decade because I was a Hoover Ambassador for several years. I liked all the vacuums I was given, but I've never completely LOVED any of them. They all seem to die out after a couple of years of regular use and abuse.
We also had a Kirby when we were first married and it was so heavy I ended up selling it on Craigslist only about a year later.
Two years ago, I purchased a Sanitaire from a local vacuum cleaning store, but I'm already having some issues with it and the shop is now closed due to COVID.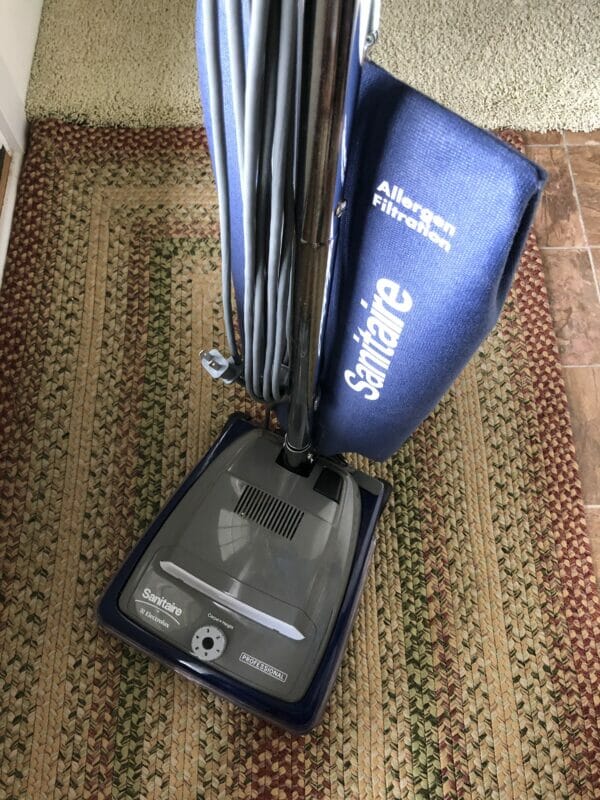 So… I'm back in the market for a vacuum and I'd love to get YOUR recommendations!
Our home is about 50/50 hardwood and carpet (with a little tile thrown in too.)
It would be ideal if I could find something that works well on hard floors, carpets, stairs, etc. I'd also like a few attachments so I can quickly do the baseboards and get under couch cushions.
I don't have a preference when it comes to bag/bagless or corded/cordless… but if it's cordless, it better have a GOOD battery life!
Feel free to share YOUR favorite cleaning products and tools in the comments… as well as your vacuum recommendation.
Thanks for any suggestions you offer! 😊