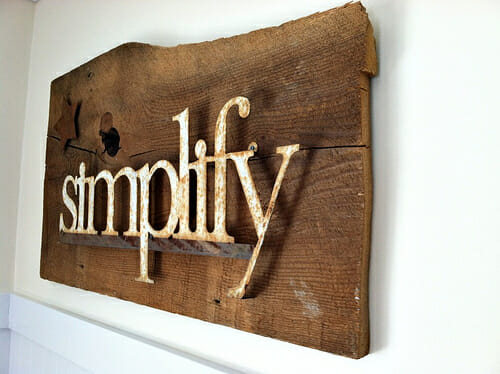 At the start of another New Year, I can't help but think more about simplifying my own home and life… and based on the emails I've been getting lately, many of you are thinking about the same things!
I'm positive I could write a lengthy novel on all my thoughts about simple living… but since I like to keep things "simple" I've come up with a little acrostic using the word SIMPLIFY.
If you are striving to live a simplified life, I urge you to consider the tips and suggestions in this post. In my opinion, they are all integral pieces to the puzzle and all work together to help you to simplify and organize your home and life.
S = START
You won't get anywhere on your journey to simple living if you don't get started…. right? And if you want a double "S", I'd suggest "Start Small".
Pick one small yet specific area of your home that bugs you the most and start there. Or choose one part of your schedule that feels too full and start there.
Just start somewhere!
I = IMMEDIATE
As I've mentioned many times before, my motto for life is similar to Nike's "Just Do It" tagline… only I would add "Just Do It NOW".
I realize there are situations when you literally can not do something right away; however, I'm somewhat confident (based on my own personal experiences) that in most cases, doing it NOW is possible.
Doing something NOW is almost alway preferable to doing it later. For one thing, if you do it NOW, you don't need to think about it later; and also, if plans change and you have less time later, you won't need to worry or stress about the fact that you no longer have time to do the various tasks on your list.
M = MAINTENANCE
I don't think any of us would think twice about showering or getting dressed today… even though we just showered and got dressed yesterday. And I'm sure none of us will moan and groan about needing to eat dinner tonight… even though we just ate breakfast and lunch earlier today.
Obviously, we get dirty and hungry every day — even if we take showers, get dressed, and eat huge meals the day before… this is just simple daily maintenance that is part of life.
So why then do so many people complain about the fact that their homes get messy again even though they just cleaned them yesterday, last week, last month, or last year?
Unless you're not actually living in your home, it's going to get dirty, dusty, messy, and disorganized again… this means that once you get an area of your home organized, you will still need to have a general maintenance plan to keep it relatively neat and organized.
I realize that might sound like extra work… but like I've said before, "Simple Living is SIMPLE… it's not EASY". And believe me, a simple weekly or monthly maintenance plan is SO much simpler than a huge organizational overhaul once a year!
P = PURGE
At this point in my life, purging is something I do ALL the time without really even thinking about it.
If I don't need or use something anymore, I purge it.
If something doesn't fit (me or the kids), I purge it.
If I don't love something or don't find it valuable, I purge it.
If I find or buy something better, I purge the older item.
It's second nature for me to always be on the lookout for things I can purge and remove from my home in order to declutter and simplify my surroundings.
While I don't expect every one of you to be as ruthless as I am, I would like to encourage you to see if you can get rid of just 10 things RIGHT NOW (or maybe after you've finished reading this post).
Also, put a donation bag or box in the bottom of every closet in your home, and from now on, anytime you don't need, use, want, or love something, put it right into that bag or box. I have a feeling you'll be surprised how quickly those bags and boxes fill up!
And if you are the type of person to worry about "what if I need it someday", try implementing this tip!
L = LIST
I certainly can't write a post about simplifying life without including some sort of comment about making lists 🙂
I LOVE LISTS!
I'm the type of person who remembers things better when I physically write something down — but I also know that when I have a list, I am much less likely to procrastinate, to forget, to get off track, or to waste time on unnecessary tasks and activities.
Bottom line, lists make most people much more productive and efficient — both of which are really helpful when you're trying to streamline and simplify your life.
I = IMPROVEMENT
"Perfection" has no place in simple living — instead, I urge you to continually strive for IMPROVEMENT.
There is (and will always be) more that you can do… and although that can seem overwhelming at times, if you strive for improvement versus perfection, your simple living journey will be so much more enjoyable (not to mention more attainable).
Purge one bag of clothes from your closet, say "no" to one of the extra to-do's in your schedule, take one more hour of time for yourself, your family, your favorite hobby, etc.
F = FOCUS
As much as magazines and Pinterest would love you to believe, a "simple life" is not the result of reading a certain book, buying specific organizing containers, having a mix 'n match wardrobe, or only owning 100 things.
Simple living requires drive, determination, and LOTS of focus.
If you haven't already done so this year, I'd encourage you to really think about a few goals you have for yourself, your home, your schedule, your family, etc. and then focus on those goals all year long.
Every time you are faced with a decision to buy something, take on another time commitment, or add another responsibility, stop and think how the choices you make will affect your overall goals.
Stay focused on the end results you want to achieve, and then continually work to take small steps towards achieving those goals.
Y = YOU!
As I'm sure many of you are aware of, there are MANY excuses we can make to keep our cluttered and chaotic way of life. It's so easy to blame the others we live with, our job, or our stage of life… but the fact of the matter is, WE are the ones who ultimately have control over our own homes and lives.
If you want to get more organized, don't let anyone or anything else stop you. Start small, start Immediately, come up with a Maintenance plan, Purge Purge Purge, make a List of goals and to-dos, strive for Improvement, and Focus on working towards Your goals.
I wish I could promise you that striving to live a simpler, more organized life would always be easy and fun… but that's just not the case.
Sometimes a simplified life means that you suck it up and do the laundry and the dishes at 10:00pm because no one else is going to do them and they need to be done. Sometimes a simplified life means being honest with yourself and the fact that you most likely will never fit into the "after I lose those last 10 pounds" section of your closet and just donating the items once and for all. Sometimes a simplified life means saying 'no' to really fun opportunities or a career advancement because they don't line up with the overall goals you have for your life.
Nope, it's not always easy or fun… but it IS worth it!
I wish I could better articulate just how many benefits I have seen in my own home and life as a result of my continual efforts to simplify. And once you start seeing and feeling and enjoying the results, it's so much easier to keep up with the maintenance and stay focused on the end results.
If one of your goals for this year is to simplify, I certainly hope this post will move you one more step in the right direction!