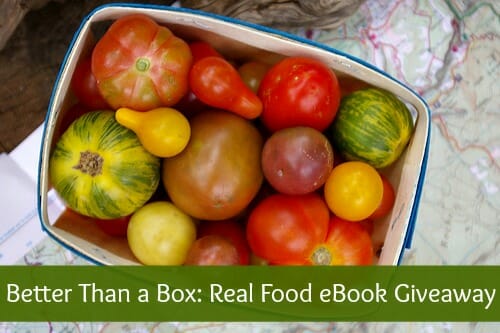 Many of you who have been reading my blog for some time might be surprised that I'm running a giveaway for a "real food" eBook. No, Dave and I don't eat horribly unhealthy by any means — but I'm also not a 100% from-scratch, real-food "junkie".
I'm an advocate for "everything in moderation" and keeping things as simple as possible in the kitchen while still providing home-cooked meals for our family. I like finding great deals on groceries, I like simplifying things by sometimes starting with a boxed mix, and I'm not above using some processed foods in our weekly menu plans.
However, I know there are so many of you who need to be gluten-free or dairy-free; and there are many others who are interested in eating less processed foods, more real foods, but might not know where to start.
And since I can't teach you, I'm bringing in the expert — my friend Katie of Kitchen Stewardship. Katie has a way of simplifying many Real Food recipes so that normal home-cooks like me and you don't feel so overwhelmed. She's also really good at reworking overly processed "from-a-box" recipes to make them completely from scratch with all REAL ingredients.
So while I'm not planning to start soaking my own grains, I'm not planning to give up all processed foods, I'm not planning to go gluten or dairy free, and I'm not planning to radically shift our eating habits, I AM always interested in learning new ways to simplify life in the kitchen and make healthy meals for my family.
Because of this, I'm super excited to share Katie's BRAND NEW eBook…
Better Than A Box: How to Transform Processed Foods Recipes Into Whole Foods Favorites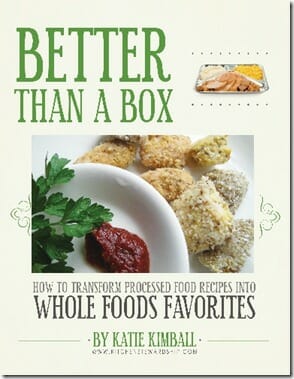 This ebook has tons of great recipes and comfort foods your family will love — just without all the preservatives!
Not only does Katie share loads of valuable tutorials, how-tos, and other information about cooking with Real Food, she also has a whole bunch of tips to simplify your Real Food cooking experience (like how to make many recipes in one pot, how to take short cuts, and how to prepare some or most of the meal in advance).
Plus, she includes a bunch of great ways you can involve your children or grandchildren in the Real Food cooking process.
Here's a more detailed description of everything you'll find inside this eBook.
Printable recipe cards
A video with Katie's 7-year old son, demonstrating how to make 3 salad dressings
Integration with Plan to Eat (if you have a Plan to Eat membership)
Printable real food substitution chart
Printable baseline fats chart
Printable how to cook dry beans sheet
Printable chicken stock Cliff's notes
Printable freezer inventory list
and more!
OK, so about this giveaway…
Katie is giving away 100 (yes 100) copies of her Better Than a Box eBook to the first 100 Simple Organized Living readers to "checkout" via this link. Simply scroll to the Better Than a Box eBook, click "Buy Now", and use this code when you checkout: SOL100FREE
If the code doesn't work, that means the 100 free books have already been given away; however you can still purchase Katie's eBook for the extremely LOW introductory price of only $1.99 for the PDF copy or $0.99 for the Kindle copy (through 8am EST January 25th)!! This package is valued at $16.95… so I'd say $1.99 or $0.99 is an AWESOME deal!!
Oh, and just because Katie is super generous, she's also offering a Free Printable Real Food Substitutions Chart to anyone — whether you purchase her ebook or not!